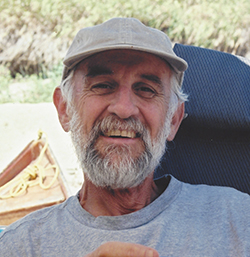 Lincoln James Ford passed away at Mt. Cartier Court Extended Care, Revelstoke on Sunday, June 25, 2017, at the age of 74 years.
There will be no formal funeral service by Lincoln's own request. There will be an informal celebration in his honour in Revelstoke, on September 9 at 2 pm at Selkirk Gardens, 312 6th St. East. In lieu of flowers, memorial contributions may be made to the Phoenix Foundation through the Grand Forks Credit Union, earmarked for environmental projects, or to the Grand Forks District Public Library, or to the Mt. Cartier Court Recreation Fund in memory of Lincoln.
Lincoln was born in Manchester, England on April 19, 1943, and had been a resident of Revelstoke for the past two years. He was a beloved teacher/librarian in Grand Forks for many years. A keen environmentalist, he made it his mission to remove garbage from both city streets and the wild country. He was an avid backcountry skier and snowboarder and also loved to hike, canoe, kayak and climb, especially with a small group of friends, aptly named The Lost Boys. He climbed Mount Kilimanjaro at age 64 and rode a small folding bicycle from Paris to Istanbul at age 65. Lincoln and Leslie walked across England together and loved to travel in their numerous Westfalia vans. He was a kind big brother and a devoted son. He loved his family, his wife and two daughters, and inspired in all three a passion for the outdoors. He faced his diagnosis of dementia with incomparable grace and courage. Though soft-spoken, kind and gentle, he lived large and loved life. He never met a rule he didn't at least think of breaking!
Lincoln was predeceased by his parents James and Essie and his sister Christine. He is survived by his spouse Leslie Davidson and two daughters: Sarah (Jason) Zimmer and Naomi Ford (Isaac Becker), all of Revelstoke; grandchildren: Arlo and Essey Zimmer and Theron and Maisie Becker as well as numerous nieces, nephews and a large extended family in England.
Messages of sympathy may be sent to Lincoln's family by viewing his obituary at www.brandonbowersfuneralhome.com.
Cremation arrangements are in the care of Brandon Bowers Funeral Home, Revelstoke.