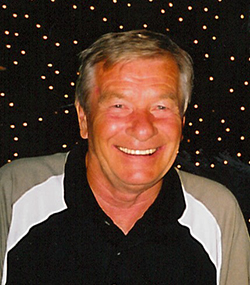 Hendricus (Hank) de Groot passed away at Mt. Cartier Court with his children by his side on June 22, 2017, at the age of 81.
Hank was born in Nieuwer-Amstel, the Netherlands, on June 10, 1936. In 1953 his family came to Canada and settled in Raymond, Alberta. Not long after arriving in Raymond, Hank headed West finding work with Parks Canada where he was employed for the next 35 years. He settled in Revelstoke where he raised his family and remained until his passing.
As a young man Hank enjoyed soccer, skiing and judo. He was also a part of the ski patrol on Mt. Revelstoke and Mt. Mackenzie for many years.
Later in life Hank enjoyed fishing, gardening and spending time at his beloved property at Crawford Creek.
Hank is survived by his three children: Ken (Renate) de Groot of Williams Lake, Lynne (Mike) Bafaro of Revelstoke, Christine (Jason) Fulton of Vulcan, Alberta; seven grandchildren; seven great grandchildren; two sisters: Joanne Berlinghof of Nanaimo and Betty Van Gaal of Lethbridge, Alberta as well as numerous nieces and nephews.
Hank was predeceased by his parents John and Elizabeth de Groot, sister Annie McDougall, brother Peter de Groot, sister Nellie Visser, sister-in-law Ricki de Groot, and brother-in-law Bill Berlinghof.
The family will be holding a memorial on August 5, 2017, at Hank's Crawford Creek property.
Messages of sympathy may be sent to Hank's family by viewing his obituary at: www.brandonbowersfuneralhome.com.
Cremation arrangements are in the care of Brandon Bowers Funeral Home, Revelstoke.