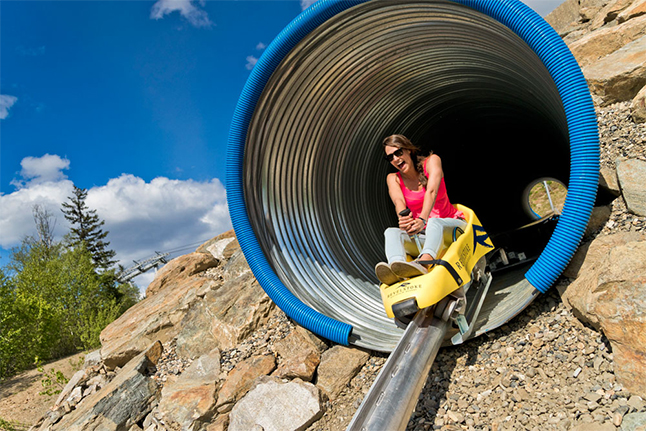 Revelstoke Mountain Resort is just days away from reopening its star summer attraction: the Pipe Mountain Coaster.
After a blockbuster inaugural season n 2016, the Pipe is going to be open seven days a week from May 20 to October 1. To celebrate the Victoria Day long weekend, the Pipe will be open with extended hours from 9 am to 7 pm from May 20 to May 22, with hours from 9 am to 5 pm between May 23 and June 29.  This unique single-track coaster can reach speeds of up to 42 kmph as it snakes along the 1.4-kilometre track from Revelation Lodge down to the Village Plaza. Unlike a traditional coaster, riders controls their speed and can tailor their thrill factor, making it great fun for the whole family.
Check out the latest video of the Pipe at http://www.revelstokemountainresort.com/multimedia/video-gallery
New for summer 2017, guests can revel in the spectacular views as they ride the Revelation Gondola all the way to its top, a mile high in elevation. Once there, they can soak in the glacier views from the deck of Mackenzie Outpost or explore the pristine natural landscape with 4 kms of new walking and hiking trails. This incredible sightseeing and hiking experience will be running from June 30 until Labour Day, September 4.
Guests will be able to package these two experiences with our famous breakfast buffet out on the patio of Revelation Lodge and save. Touted as Revelstoke's best patio, it offers extraordinary views of the city of Revelstoke, the surrounding Monashee Mountains and the Columbia River.  For hours, rates and packages, please visit www.revelstokemountainresort.com