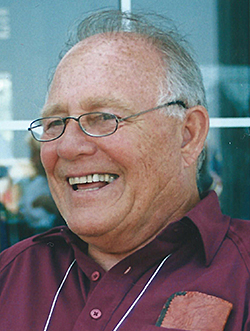 It is with heavy hearts we inform you of the passing of Terry Connellan in Mount Cartier Court, May 8, with family at his side.
Terry was born in Regina on March 7, 1934, to Gilbert and Gretchen. He went through school in Regina until he moved to Winnipeg to play ball with the Winnipeg Goldeyes and then to complete his education at United College, now the University of Winnipeg.
There he met and married Janet Lupo, and they settled down to have four children while Terry established himself in business. During this time the family discovered the joys of camping and pulled their Holiday Rambler over many parts of Canada on wonderful camping adventures.
After living in Ontario for a number of years, Terry and Janet's marriage came to an end. Terry moved back to Regina until his retirement, when he packed up the Holiday Rambler and moved to Victoria.
In 2005 Terry moved to Revelstoke to be with his beloved Ellen.
Terry led a full and active life, and always on his own terms. He and Ellen had wonderful bicycle adventures, touring throughout Canada at different times as well as some of the more interesting parts of the United States. He helped organize the first Terry Fox run in Barrie Ontario as a member of Human Energy North, in an effort to assist Terry Fox in his long term goals. Terry knew the value of education and encouraged young people to pursue their education in productive fields. It didn't matter what they chose as long as they did their very best. To this end he helped establish the Gabriel Dumont Scholarship Fund.
He saw the world as a place where anything was possible and did his best to convince others, particularly his children, this was the case.
A favourite expression was 'Things always work out for the best in the long run'.
Terry is survived by Ellen Tremblay, daughters Elizabeth, Barbara, (Grant) Catherine, and son Michael. Grandchildren Will, Gilly, Quinn and Liam. Brothers Peter (Liz) and John.
A private celebration of Terry's life will be held at a later date.
Messages of sympathy may be sent to Terry's family by viewing his obituary at: www.brandonbowersfuneralhome.com
Cremation arrangements are in the care of Brandon Bowers Funeral Home, Revelstoke.