A 31-year-old man is in custody facing multiple charges following a string of complaints of stolen trucks, vehicle arsons and erratic and dangerous driving in Revelstoke on Sunday, May 21.
In an extensive statement released on Friday, Cpl. Dan Moskaluk, Southeast District Advisory NCO for Media Relations, said that at about 9 am on Sunday, the RCMP detachment received a report of a suspicious incident, after the complainant had stopped to assist a man in a Ford F150 who appeared to be stuck in a sandy area. The driver was reportedly aggressive — both verbally and physically — and claimed to be armed with a gun.
According to the statement, officers located the driver in Revelstoke and on two separate occasions the driver refused to stop for police.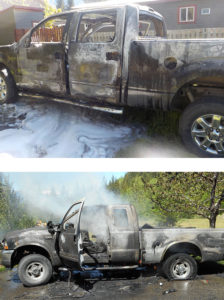 The RCMP also received reports of thefts of two vehicles, including a Ford F250 pick-up truck and Ford F350 pick-up truck, followed reports of two vehicle fires. When examined by officers, they were determined to be the same Ford 150 pick-up truck, a stolen Kelowna vehicle, and the Ford F250 taken that morning.
Various reports of property theft were also received, including the failed theft of a travel trailer involved with the Ford F350. The situation became graver when it was reported that a man matching the suspect's description had stolen ammunition from a local fishing and hunting store.
An RCMP Police Service Dog Team and RCMP Southeast District Air Services were requested to assist. The RCMP aircraft located the vehicle, stopped on a service road adjacent to The Trans-Canada Highway, approximately 15 kilometres west of Revelstoke and directed officers to its location. Officers set up a roadblock to keep the vehicle from gaining access to Highway 1, however the driver approached the roadblock and sped through. The RCMP aircraft was able to track its movements and reported the suspect fleeing on foot along the TCH.
Police were able to arrest the suspect on the highway after he approached a motorist in a white SUV that had stopped. The man was arrested at that time without injury or further incident, Moskaluk said in the statement. He was not in possession of a firearm when he was arrested.
Kelly Andrew Maclean of Dawson Creek has been charged with 14 offences:
Possession of Property Obtained By Crime Over $5,000 – Sec 355(a) CCC (3) counts;
Possession of Property Obtained by Crime Under $5,000 – Sec 355(b) CCC (1) count;
Arson- Sc 434 CCC (2) counts;
Theft Under $5,000 – Sec 334 CCC (1) count;
Dangerous Operation of a Motor Vehicle – Sec 249 (1)(a) CCC (1) count;
Flight From Police- Sec 249.1 (1) CCC (3) counts;
Driving while Disqualified – Sec 259 (4) CCC (2) counts; and
Theft Over $5,000 – Sec 334(a) CCC (1) count.
The Revelstoke RCMP would like to thank those who assisted police throughout the incident, as the information assisted in bringing the matter to a safe and successful conclusion. Maclean remains in custody with a court appearance set for June 6.
Investigators would also like to speak to the driver of the white SUV that had been approached by the suspect and ask that anyone who witnessed any incidents associated to this investigation to contact the Revelstoke RCMP at 250-837-5255.