By Jason Portras
The annual celebration of Revelstoke as a logging town was held under beautiful blue skies this past Saturday, May 20.
Timber Days is an open logger sports competition, featuring pros and locals competing in a wide variety of events, including the CANLOG "Hot Saw" National Championship.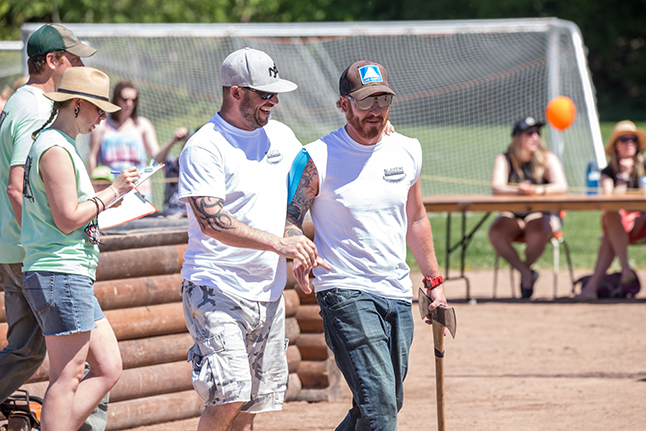 There were also plenty of entertainment for kids to enjoy, including two pie-eating contests, a meet-and-greet with Smokey the Bear, and a variety of logging-inspired activities.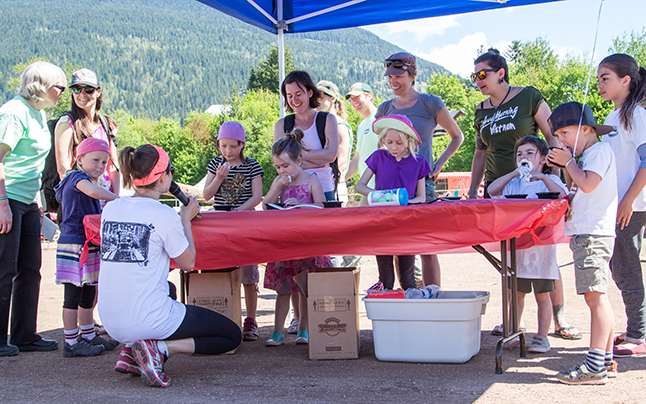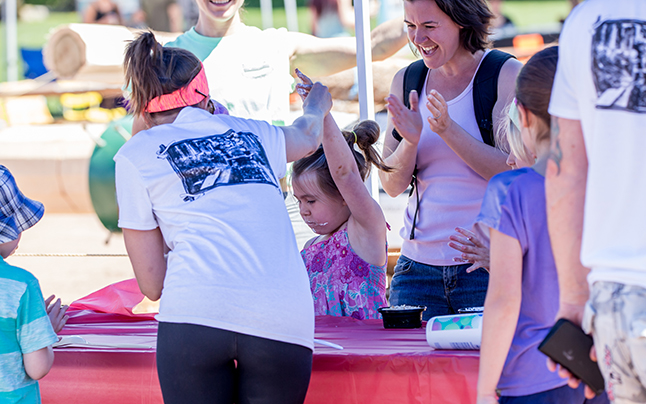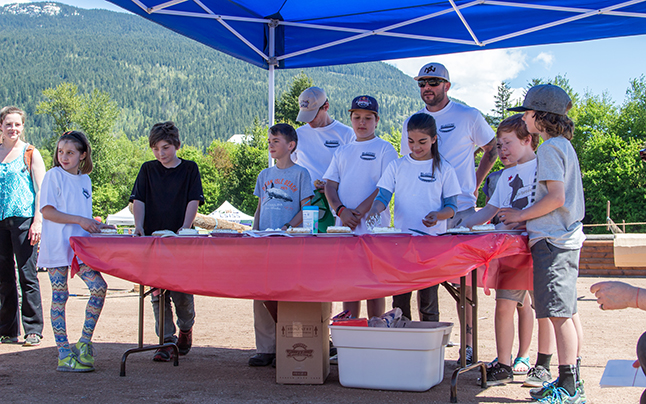 And who could forget one of the most anticipated events, the log-rolling contest? Better known among loggers as "birling". Another highly anticipated event was the pole climb. I don't have a clue how they make it down so fast without being run through by slivers.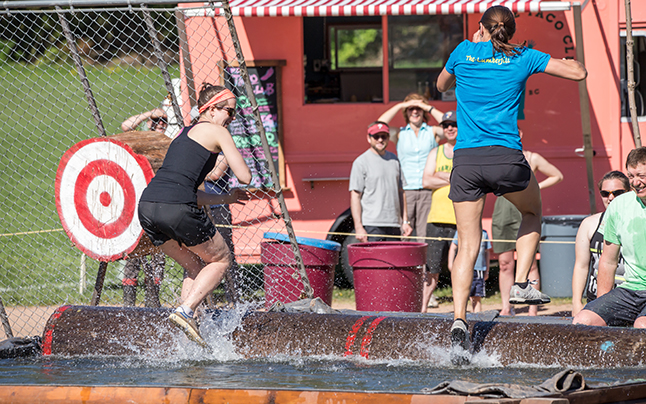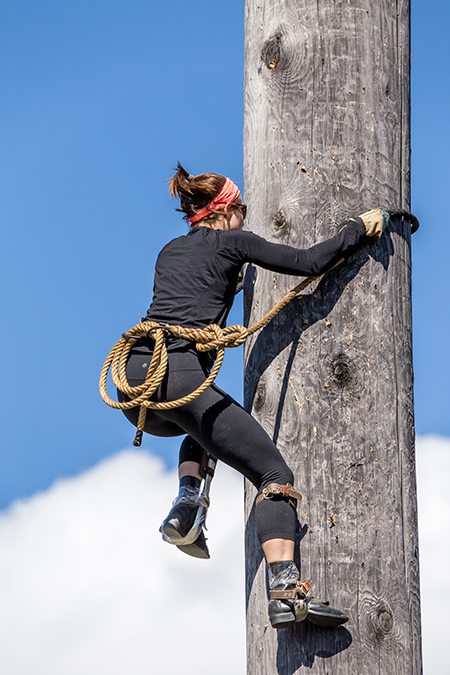 The odour of logger's perfume permeated the air (a mixture of WD40 and sweat). The day was packed with bullseyes and 4-pointers, half-cookies and full-cookies, "dirty 'stache power" (ya had to be there), and a great deal of axes and saws too. As someone who doesn't go to these events very often, it was quite interesting and a great deal of fun.
Katherine "Kat" Spencer was a phenomenal host / MC, too. I especially enjoyed her good-natured ribbing of her fellow logging competitors, as well as educating crowd members like myself who have very little exposure to the logging world. Well done!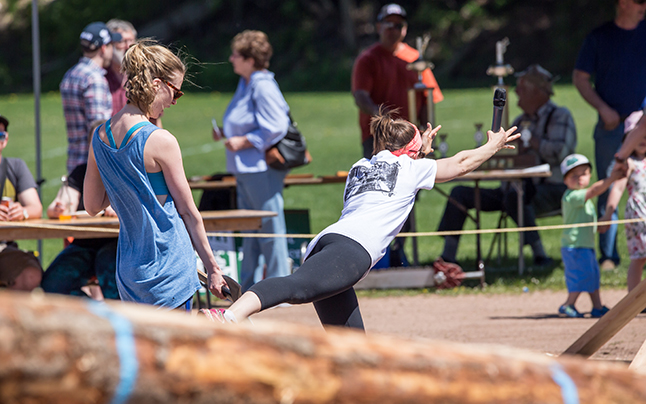 The competition not just welcomed newcomers to the sport, but encouraged them whole heartedly. That said, protective fences had to be put in place too. Ya know, just in case.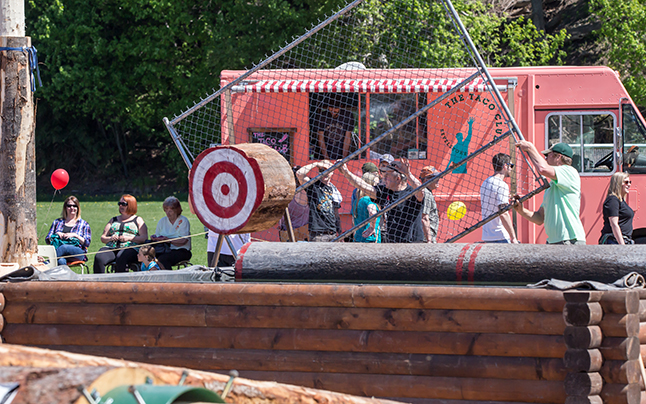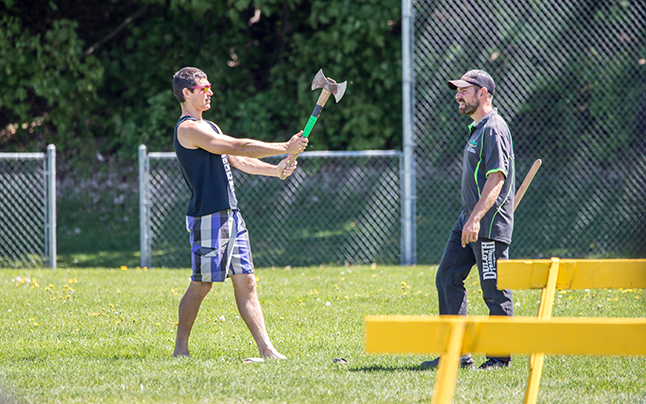 The events obviously took a great deal of planning and volunteer work from a lot of people. Without timers and judges, in particular, there wouldn't have been any competitions.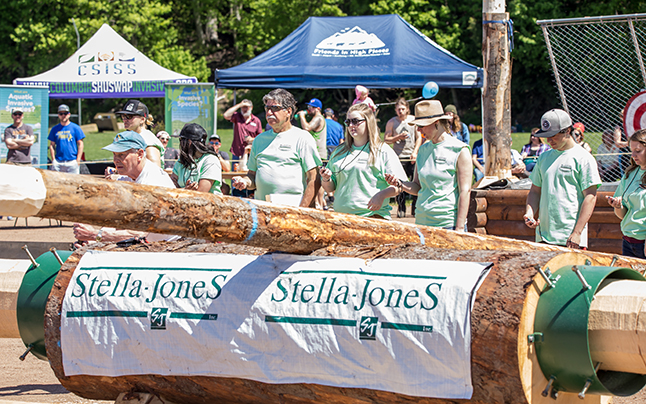 The Pioneer Logger Award was given in memoriam to Max Stoller, a local man who lost his life in an unfortunate logging accident in the summer of 2015 at the age of 65 after spending the past 51 years of his life in the Revelstoke region as a logger. His family was on hand to accept the award on his behalf.
Other notable awards given were Scott Hanson for Local Man Logger of the Day, Debbie Barstad for Local Lady Logger of the Day, Erin Lavoie for Pro Lady Logger of the Day, and unfortunately I never heard who was given the award for Pro Man Logger of the Day.
There were also a number of great silent auction items, as well as a live firewood auction that saw three logging truck loads of firewood sold, each for about an average of $1100. That's a steal! Of course, it doesn't come pre-cut either, as far as I could tell, so those people had better be offering fiends and neighbours lots of BBQ and beer to help with that task!
The last event for the locals was the Groucho Marx competition. If you haven't seen this before, it's a water fight with the objective of putting out your opponents' cigars while you keep yours lit.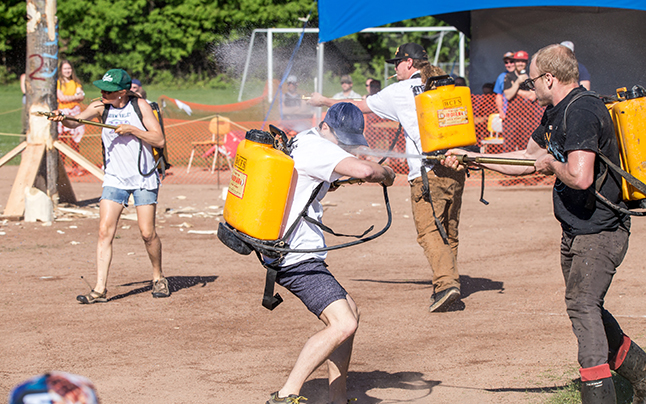 And, finally, here's a list of all the winners:
Pro 140cc Hot Saw Championship
1st Place: Leo Coudrau
2nd Place: Mitch Hewitt
3rd Place: Dave Macleod
4th Place: Joe Whalen
Pro Mens Pole Climb
1st Place: Brian Bartow
2nd Place: Nick Hall
3rd Place: Eric Hoberg
4th Place: Carson Bischoff
Pro Mens Obstacle Pole Buck
1st Place: Carson Bischoff
2nd Place: Dave Macleod
3rd Place: Mitch Hewitt
Pro Mens Single Buck
1st Place: Nick Hall
2nd Place: Mitch Hewitt
3rd Place: Joe Whalen
4th Place: Leo Coudrau
Pro Ladies Underhand Chop
1st Place: Erin LaVoie
2nd Place: Allison Briscoe
3rd Place: Carly Stinson
4th Place: Kate Page
Pro Ladies Obstacle Pole Buck
1st Place: Erin LaVoie
2nd Place: Kaylee Hatfield
3rd Place: Chrissy Ramsey
4th Place: Kate Page
Pro Ladies Husqvarna Stock Saw
1st Place: Nadine Overwater
2nd Place: Anita Jezowski
3rd Place: Katherine Spencer
4th Place: Erin LaVoie
Pro Ladies Axe Throw
1st Place: Allison Briscoe
2nd Place: Anita Jezowski
3rd Place: Chrissy Ramsey
4th Place: Katherine Spencer
Pro Ladies Birling
1st Place: Erin LaVoie
2nd Place: Chrissy Ramsey
3rd Place: Katherine Spencer
4th Place: Amy Eneroth
Local Axe Throw
1st Place: Rob Sernecky
2nd Place: Chad Miller
3rd Place: Scott Hanson
4th Place: Debbie Barstad
Local Survivor Tea Boil
1st Place: Debbie & Simon
2nd Place: Trent & Patrick
3rd Place: Scott & Julia
4th Place: Kelsey & Peter
Local Relay
1st Place: Peter, Scott, and Kelsey
2nd Place: Debbie, Trent, and Pat
3rd Place: Patrick, Melissa, and Simon
4th Place: Matt, Pamela, and Andrew
Pro Relay
1st Place: Mitch, Dave, and Anita
2nd Place: Brian, Eric, and Katie
3rd Place: Kevin, Roger, and Ally
4th Place: Leo, Kate, and Nick
If you're interested in learning more about logging competitions or some of the competitors from Timber days, have a look at the following links: