Editor's Note:
The following is the second in a series of articles from the Invasive Species Council of British Columbia to mark May as Invasive Species Month. You can click here to read the first article in the series.
Whether you are adding new, attractive plants to your garden, starting a landscaping project, growing crops, running a horticulture-based business or are removing invasive plants from your land – you can make a difference! You, your family, your community or your organization can get involved.
The horticulture industry has been identified as a key pathway for the introduction and spread of horticulturally invasive plants in gardens, orchards, vineyards, hayfields, crops and wild lands across BC and beyond. PlantWise is a province-wide program designed to work with both the horticulture industry and home gardeners. PlantWise is positive and motivating—it encourages you to choose only safe alternative or native plants instead of invasive ones.
Explore the new PlantWise website and download the mobile app for iphone or android: www.beplantwise.ca
By committing to make a simple change in behaviour, you can make a difference to reduce the spread of horticulturally invasive plants in BC. Here's how: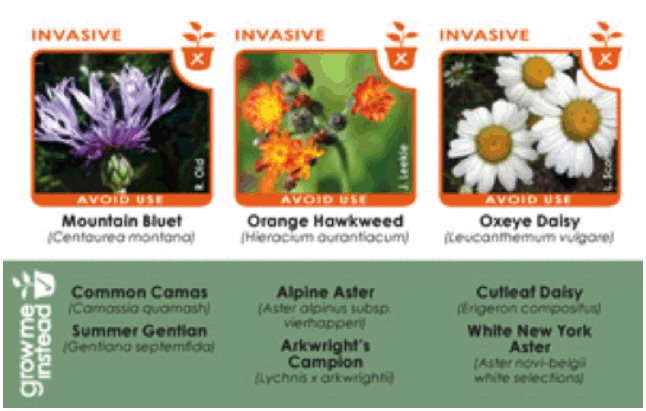 1) Be PlantWise – Check out Grow Me Instead
Grow Me Instead is a valuable and popular resource of PlantWise that illustrates 26 of horticulture's most 'unwanted' invasive plants frequently found in gardens across BC. Some of these 'unwanted' invasive plants are still sold at garden centers and other outlets, and used by landscapers and landscape architects in their designs. Each invasive plant listed in Grow Me Instead has suitable, and equally beautiful and functional, non-invasive plant alternatives (native and exotic) that work well for a range of growing zones and conditions in BC. Learn about a few key examples.
2) Be PlantWise – Make a Commitment
Commit to be PlantWise and make a difference – Learn about the ways you can make a difference in your community.
3) Be PlantWise – Become an Ambassador
Become an Ambassador and teach others the PlantWise message. By working together, we can ensure that future generations will benefit from beautiful, abundant landscapes in BC, while nourishing sustainable communities, healthy ecosystems and vibrant gardens.
4) Report Invasive Plants
Report sightings of invasive plants in your community.
Additional PlantWise Resources:
Grow Me Instead Booklet
Grow Me Instead Snapshot Brochure
Report: Minimizing the Impacts of Invasive Plants in Horticulture
Report: Economic Impacts of Invasive Plants in BC
Report: A Road Map for Invasive Plant Research in BC:Where Do We Go From Here?
Funding for this project has been provided through the Canada-BC Agri-Innovation Program under Growing Forward 2, a federal-provincial-territorial initiative. The program is delivered by the Investment Agriculture Foundation of BC.
See links below for more information.
Become a PlantWise Ambassador and help spread the PlantWise message in your community.
Key Horticulturally Invasive Plants
Learn about a few key invasive plants impacting horticulture, including Baby's Breath; Butterfly Bush; English Ivy; and Himalayan Blackberry. Please help prevent (alert species): Common Morning Glory and Tree of Heaven.
Plantwise Program Partners
ISCBC would like to thank our industry partners for leading by example to showcase the benefits of responsible gardening. We believe efforts made this year will enable a strong provincial Plantwise program in future years.
PlantWise Resources & Background
The PlantWise program includes both industry and consumer components, supporting the efforts of industry leaders who provide direction to gardeners at the point of sale, as well as through general education and awareness in pilot communities.