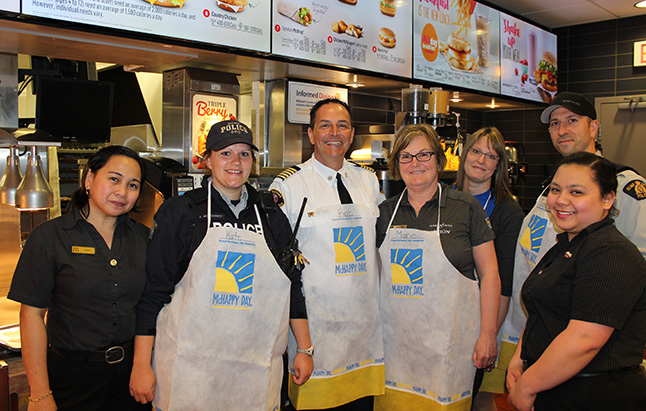 By David F. Rooney
Evey year McDonald's Restaurant owners Kevin and Cathy Blakely bring in members of the community to help out during the annual McHappy Day fund raiser. They enlisted a whole raft of us to do just that on Wednesday, May 3.
It was our duty to meet and greet customers and offer them socks, buttons and ribbons they can buy in support of McHappy Day's main goal — raising money to support the Vancouver Ronald McDonald House, which exists to provide a home for parents whose sick kids are being cared for at the Children's Hospital.
"Our goal was $5,000 and thanks to the overwhelming support from the community, we managed to raise an amazing $6,034 for the Vancouver Ronald McDonald House," said Cathy Blakely, co-owner, with her husband Kevin, of Revelstoke's McDonalds restaurant.
"It really hit home throughout the day as people stopped to talk to us about their personal experiences using the House.  It was a highly emotional conversation at times because not all the stories had a happy ending, but using the Ronald McDonald House helped keep the families together at a time when their support was need the most."
Here are a few more photos from the day: