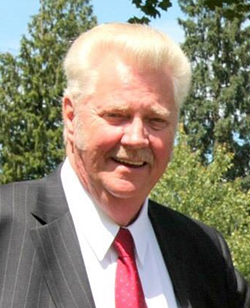 Clarence (CW) Thacker passed away peacefully in his sleep on Tuesday April 11, 2017, in Wadsworth, Ohio, at the age of 75. There will be a celebration of life on Sunday May 21st, 2017, at 2 pm at the Revelstoke Community Centre. Memorial contributions may be made to Alternating Hemiplegia of Childhood Foundation (www.ahckids.org). AHCF, 2000 Town Center, Suite 1900, Southfield, MI, 48075 USA.
Clarence was born February 24, 1942, in Winnipeg, Manitoba, to Robert and Mary (nee Bruce) Thacker. On May 30, 1964, Clarence married his first wife, Sylvia (nee Rybuck) Thacker. Clarence and Sylvia then welcomed three children during their time in Winnipeg before relocating to Revelstoke, British Columbia, in 1974. One year later, Clarence and Sylvia welcomed one more baby girl in 1975. Sylvia passed away in 2004 and Clarence married Linda Bowsher Petroff on January 6, 2006, and gained two more step children.
Clarence loved his job as a locomotive engineer, he was a very proud BLE Division 657 Union member and in the most recent years before retiring, he dedicated much of his time as the local EFAP (Employee & Family Assistance Program) referral agent for CP Rail. He also took great pride in his 38 years of sobriety. He enjoyed his volunteer work within prisons and other organizations. Clarence was a dedicated member of the Knights of Pythias Gold Range Lodge #26 since January 20, 1982, and Dramatic Order Knights of Khorassan Shem El Nessim #172 since July 15, 1982, where he received Chancellor Commander Rank in 2001/2002 and a 25-year certificate on March 26, 2007. Clarence enjoyed riding his Harley Davidson and his John Deere tractor. He was an avid sports fan. Clarence loved to watch and play hockey and was very proud of his years with the Revelstoke Runaways CPR hockey team, earning the nickname 'Grapes.' He also loved curling and in the last 15 years, shared a deep passion for golf with family and friends. Clarence was a proud Free and Accepted Mason and a member of the Widows Sons Masonic Riders Association in Ohio. Clarence is and always will be a hero to many.
Clarence will be deeply missed by his wife Linda of 12 years; children Wally (Cathie) Thacker, Dorothy (Terry) Heddle, Tammy (Randy) Kaler, Marla Thompson, Kelly (Steve) Gibson, Clint (Amy) Petroff; grandchildren Courtney, Aleesha, Tyler, Brett, Melissa, Keanan, Lexi, Marissa, Jonathyn, Courtney (Jimmy), Emiley (Tommy), Hannah (Cody), Mackenzie and Samantha; great grandchildren Lukas, Olivia, Scarlett, Harper and Carson, his sister Virginia, and numerous in-laws, neices and nephews that meant the world to him.
Clarence was predeceased by his parents, Robert and Mary Thacker, first wife Sylvia Thacker, and sisters Vivian and Shirley.
Clarence's family would like to thank the doctors and nurses at Barberton Citizens Hospital – Summacare and the staff at Altercare Nursing Home/Long Term Care Facility of Wadsworth, Ohio for their dedication and amazing care during Clarence's final days.
Messages of sympathy may be sent to Clarence's family by viewing his obituary at www.brandonbowersfuneralhome.com