By Kate Borucz
North Columbia Environmental Society
The North Columbia Environmental Society is sponsoring the Fourth Annual Bike/Gear Swap & Expo from 11 am until 3 pm at the Revelstoke Forum this Saturday, April 29.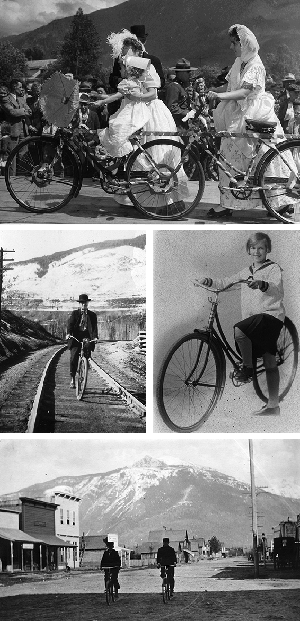 Revelstoke is a community that prides itself on many things. From conservation to adventure, and from history to the community's unique mountain culture, there is one tangible item that ties all of these things together: the bicycle.
As far back as the 1890s, bicycles have brought the community together for recreation, conservation, and participation. The Bike Swap is just another way that cycles bring people together. If you're keen on buying or selling a bike, learning about trails, or seeking volunteer opportunities then join the North Columbia Environmental Society for the Bike Swap.
If you're looking to sell a bike, you can pre-register it buy emailing info@northcolumbia.org or arrive at the Forum between 9am – 11am on April 29th. It'll cost you $2 to register with 10% of the sale price (up to $50) going towards the NCES to continue their environmental education events and programming.
They say variety is the spice of life, and according to Dan Nelson, who owns and operates Flowt Bikes & Skis in with his wife Lindsay, it's what makes mountain biking in Revelstoke so unique. " We have a little bit of everything, and it's all world class. Big alpine trail rides, massive peak to valley missions, technical downhill – and with Mt. MacPherson, a nearby network of exceptional singletrack that's super easy to access." Whether you're a beginner looking for a bike to get you from point A to point B, or a seasoned rider looking for spare parts, the Bike Swap aims to cater to the needs of all riders.
Through the annual bike swap, the NCES wants to encourage people to grow an appreciation for the natural beauty of their surroundings, connecting people to nature through recreation sparks an interest in preservation. Recreational trail users have the potential to unintentionally spread invasive species through their usage. "There are several invasive species that are at risk of spreading along bike and recreation trails around Revelstoke. Some of our worst invasive species include: Knotweed species, Blueweed and Himalayan Balsam. We are fortunate to have no puncturevine yet recorded in our region (found in Okanagan), which has spiky seeds that can puncture bike tires," says Robyn Hooper, Executive Director for the Columbia-Shuswap Invasive Species Society, which will be at the event as part of expo.
A community-wide culture takes a community wide effort to maintain. Most of the trails around Revelstoke are largely built, designed, and maintained by volunteers. "We have a diverse range of trails for riders of all abilities in Revelstoke, and a group of riders with interests to match that diversity: committed downhill riders, cross-country fanatics, town cruisers, and spandex-clad road riders," says Robyn Goldsmith of the Revelstoke Cycling Association, which has been building trails since 1998.
$2, or $5 if you bring your family, will get you through the door, and you'll have access to sale items, local retailers, a workshop on basic suspension tuning, demos, a raffle, all sorts of information about biking-related services, and experts to help answer your questions. Be sure to bring cash, to save on extra fees.