By David F. Rooney
The Revelstoke Community Foundation reafirmed its value to local non-profit groups when it distributed $40,130 to support projects initiated by 20 organizations.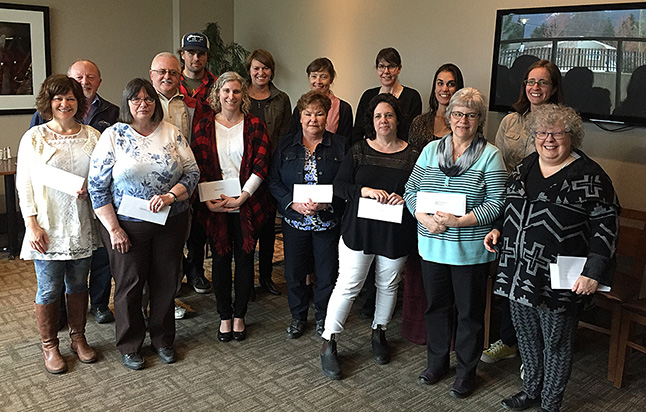 Every year the foundation steps up to assist groups that provide valuable services to the general community. This year's fortunate grant applicants include:
Organization

Program
Purpose
Amount of Grant
Fund
Community Connections
Food Bank
Provides year-round food assistance, resources and services to support families
$2,250
Community Fund & Revelstoke Mountain Resort Fund
Community Connections
Nutrition Education Program
Provide low-income families with tools to improve their nutrition
$1,000
Community Fund & peoples Drug Mart Health and Welfare Fund
Community Connections
Summer Day Camp
Provide safe, fun and accessible camp program for kids ages 6-11
$2,000
Community Fund
Columbia Basin Alliance for Literacy
Family Literacy Program
Provide community-based literacy programs
$2,000
Community Fund & R Mickle Fund
Child Care Society
Healthy Early Child Development Learning Services
Provide a series of accessible and engaging workshops to help parents and early learning service providers
$1,300
Community Fund & Canadian Club Fund
Hospice Society
Hospice/PALS training, coordinator wages and special events
Offer palliative care/PALS training for new and ongoing volunteers and special events
$1,250
Community Fund
Arts Council
Miracle on MacKenzie
Ignite the spirit of the season at Christmas
$1,000
Community Fund
Arts Council
Family Series
Support the delivery family-friendly entertainment at the Performing Arts Centre
$1,000
Community Fund
Arts Council
ArtStarts in Schools
Workshops for local students led by professional artists
$2,000
Community Fund
Youth Advisory Committee — City of Revelstoke
Youth outreach
Enables youth from low-income families to participate in arts, sports, recreation and culture programs
$2,600
Revelstoke Credit Union Youth Fund
BC Interior Forestry Museum
Expand Awareness
Hot a booth at the Interior Logging Association's annual show
$1,000
Community Fund & R Lenzi Fund
Women's Shelter
Moving Forward
Offer traditional and holistic support and mentoring to women

Moving from an abusive or isolated environment to living in an empowered and healthy environment

$2,000
Community Fund
Visual Arts Centre
LED Lighting
Transition the Centre's overhead gallery lighting to green LED system
$2,100
Environmental Fund
Visual Arts Centre
Canada 150 Community Arts Exhibition
Mount an exhibition consisting go 1,000 tiny painting created by members of the community
$2,500
Community Fund & Canada 150 Fund
Museum & Archives
Brown Bag History Book No. 2
Produce the second volume in the Brown Bag History series
$1,500
Community Fund
Museum & Archives
Snapshot of History
Share 32 weekly galleries of 20 photographs each and, through popular vote, select Revelstoke's Top 150 historical photos
$2,100
Community Fund and Canada 150 Fund
Bear Aware Society
Attractant Management Strategies
Reduce human-bear conflicts through a sensible approach to managing attractants
$2,300
Community Fund
Heritage Railway Society
Rolling Stock Restoration
Complete restoration if 2-3 pieces of railway equipment on display
$1,000
Community Fund & Big Bend Heritage Fund
Revelstoke Theatre Company
Accounting Software
Purchase Sage 50 to improve financial record keeping
$500
Community Fund
Revelstoke & District Humane Society
Veterinary Care
Provide health service for animals in RDHS's care
$2,000
Community Fund
Screen Smart Committee
2016 Screen Smart Challenge and year-round education
Promote healthy lifestyle for families
$1,000
Community Fund
Columbia Valley Skateboard Association
Kovach Youth Skateboard Park
Create a modern skateboard park at Kovach Park
$1,580
Community Fund & Cougar Baseball Fund
Farwell Splash Park
Restore and update Farwell Splash Park
Remake this family friendly area into an attractive and free space
$1,000
Community Fund
Canadian Parents for French
Local French initiative
Provide extracurricular French language instruction of Kindergarten to Grade 2 classes at Begbie View and Columbia Park schools
$1,000
Community Fund
Folk Music Society
Revelstoke Coffee House
Acoustic evenings of music
$1,000-
Community Fund
Royal Canadian Legion Branch 46
Chair acquisition
Replace old wooden folding chairs with 100 modern ones
$1,150

Community Fund & Canada 150 Fund
The Foundation didn't just handout money that afternoon. It received a $5,000 gift from thye TD Bank, too.