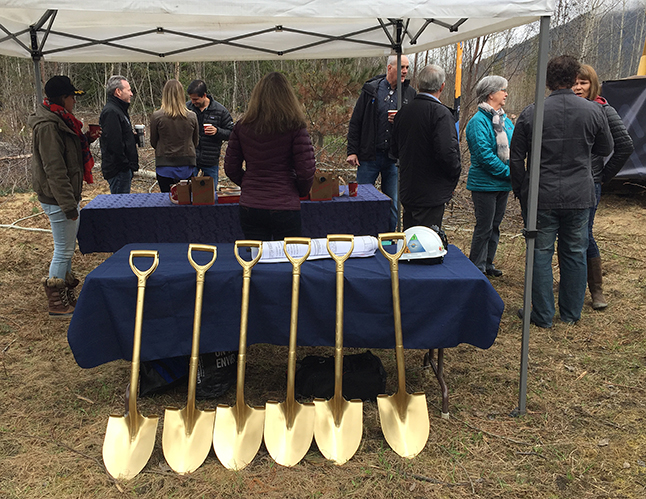 By David F. Rooney
David Evans' dream of a bustling major residential development in Arrow Heights is becoming a reality after a ground-breaking ceremony on the Nichol Road building site on Monday, April 24.
"It's a really exciting day for us and I think for the City of Revelstoke," he said as he prepared to break the surface of the building site's stony soil.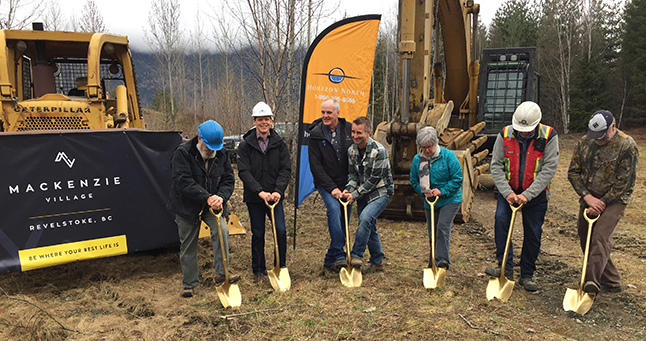 Phase 1 of the project will see construction of a mix of apartment and condos in seven low-rise buildings by November this year. Phase 2, expected to be built in 2018, will consist of two mixed-use buildings facing Nichol Road. They will contain ground-floor neighbourhood retail spaces such as restaurants, cafes, pubs and convenience stores with small, medium and large apartments on the upper floors. Click here to view the development's prospectus.
A total of 12 phases will see at build out about 1,000 residential properties including traditional single family homes, condos and apartment. Units are on sale now for as little as $224,900, which in the context of the Canadian real estate market is a bargain. The average house price in Canada is $548,517. Here in BC it is $690,597.
Evans said he expects the development will help contribute to a boom of sorts in Revelstoke. Not only will they attract more permanent and seasonal residents, but those people may bring new skills and businesses to Revelstoke. The City can anticipate an increase in property taxes paid, which certainly won't hurt its bottom line.
For acting Mayor Linda Nixon, who was on hand to break ground with a 'gold-plated' shovel, the development is good news for Arrow Heights Elementary School, which has had a declining student population over the years.
"I really hope so," she said. "I packed enough hot dogs there over the years."
A lot of people are hoping that Mackenzie Village will live up to Evans' aspirations. And it might just work.