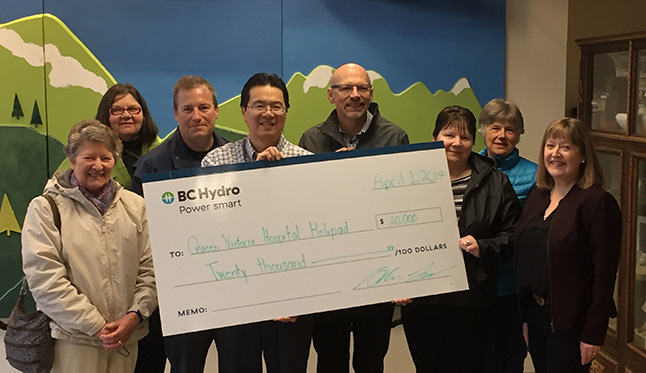 By David F. Rooney
BC Hydro came through with $20,000 for the Queen Victoria Helipad Project on Saturday morning, April 1.
Richard Brittin and Al anLaidlaw of BC Hydro presented Steven Hui, co-chair of the project, with an over-sized cheque during a brief ceremony in the QVH foyer.
"We are pleased to contribute $20,000 towards this important initiative," said Brittin, director of Columbia Operations. said in a statement released nafter the photo op. "The new helipad at the Queen Victoria Hospital will have important safety benefits to our employees and contractors, as well as the entire community."
This is likely the last major donation for the helipad project.Project Co-Chairmen Steven Hui and Fred Beruschi as well as all the members of its fundraising committee and supporting groups have now raised the $465,000 that was identified last May as the cost of building the helipad.
A professional, Transport Canada-approved helipad has been a long time coming to Revelstoke. True, there always has been a helipad of sorts on the hospital grounds but it is primitive; in fact, it is little more than a poorly paved plot of land to the north of the parking lot. For decades, patients who required helicopter transport to and from QVH had to be transferred by ambulance to and from the choppers that had to land at the airport. That was a time-consuming and unsatisfactory procedure that the Health Foundation decided to address last year. Even though Interior Health was not prepared to build a helipad at QVH, it was willing to operate one if the community could raise the money to build it. With a challenge like that, how else could Revelstoke respond?
The Health Foundation began its fundraising campaign in November and the community immediately climbed aboard the campaign. Businesses large and small and interested individuals all contributed to the donations and now, fine months after it began, the campaign is essentially over.
On Thursday, Transportation Minister Todd Stone brought a cheque for $50,000 from the provincial government.
Click on the links below to read each of our stories about this amazing community campaign:
https://legacy.revelstokecurrent.com//2016/05/19/a-helipad-for-queen-victoria-hospital/
https://legacy.revelstokecurrent.com//2016/11/04/campaign-to-build-a-helipad-is-taking-flight/
https://legacy.revelstokecurrent.com//2016/11/08/helipad-project-open-house/
https://legacy.revelstokecurrent.com//2016/11/13/qvh-helipad-project-will-save-lives/
https://legacy.revelstokecurrent.com//2016/11/14/got-time-to-participate-in-the-qvh-helipad-open-house-it-starts-at-10/
https://legacy.revelstokecurrent.com//2016/11/14/helipad-project-takes-off-into-the-stratosphere/
https://legacy.revelstokecurrent.com//2016/11/29/helipad-campaign-hovers-closer-to-its-goal/
https://legacy.revelstokecurrent.com//2017/01/06/in-video-steven-hui-and-fred-beruschi-discuss-the-qvh-helipad-project/
https://legacy.revelstokecurrent.com//2017/02/03/rotarians-leaped-at-the-chance-to-help-the-qvh-helipad/
https://legacy.revelstokecurrent.com//2017/02/13/helipad-fundraising-campaign-needs-a-final-push/
https://legacy.revelstokecurrent.com//2017/03/27/a-heart-attack-the-inside-story/
https://legacy.revelstokecurrent.com//2017/03/31/transportation-minister-comes-bearing-gifts-updated/