By Carly Moran
Chris Pawlitsky has reached his goal for the 2016-17 season: skiing one million feet of lift-accessed vertical at Revelstoke Mountain Resort.
While he will be the first to admit he is no Greg '2 Mill' Hill, he managed to ski 53 days, averaging approximately 20,000 feet per ski day. To put the number into perspective, Chris skied an average of five top-to-bottom laps or ten Stoke Chair laps each ski day, which is a lot of turns for any ski bum — especially one juggling a full-time job as a CP Rail engineer and recovering from a broken neck last season.
When asked why he wanted to achieve this goal, Chris stated, "every year, at the end of the season, I end up with about 800,000 vertical feet, so this winter I set a goal to ski a little more than usual to get the million. Mission accomplished!"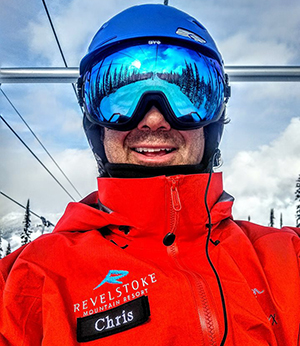 It has been just over a year since he broke his neck skiing a lap in Separate Reality. "I was doing Super G turns, got going way too fast, and my tips dove into the snow. I pretty much went from going 45 mph to a dead stop in a second and scorpioned," said Chris. "I was completely off for three months and gradually worked back up to being able to do any physical activity."
Chris, who is turning 50 in May, was born and raised in Revelstoke. He grew up skiing on Mt. Mackenzie and has been a season pass holder since the resort opened in 2007. He also works as a Mountain Ambassador at Revelstoke Mountain Resort. Even though he's reached his goal for this season, he still plans on skiing as many days as he can before closing day.
The question now: what is his plan for next year?
Carly Moran is the media relations coordinator for Revelstoke Mountain Resort