By David F. Rooney
One hundred and six years after McKinnon's pool room and cigar store was built in 1911, the McKinnon Block has undergone another radical transformation; it's now a beautiful boutique hotel and restaurant — the Explorers' Society Hotel and Quartermaster Eatery.
Owned by Stephen and Rebekah Jenkins of Seattle, Washington, this historic building in the heart of downtown Revelstoke has just nine rooms. The Jenkins have used a subdued colour palette and the structure's original poured-concrete walls and brickwork to marvelous visual effect. They have also very cleverly used the building's original coal-fired boiler as the central design element of their basement bar, the Boiler Room, where you can relax with 14 or 15 other people and enjoy one of its specialties — unique, hand-crafted cocktails.
"The Quartermaster Restaurant seats 72 people and is directed by Olivier Dutil of La Baguette," Stephen said during a tour of the hotel last Thursday, March 3. "Olivier is our executive chef, general manager of the restaurant and our business partner. We wouldn't have done the restaurant without him. He's critical and the restaurant gives him an opportunity to express himself in a super, high-impact way for the community and the tourists."
The Jenkins have are quite keen to make certain spaces available to the public; for instance, the original tobacco shop is in the final throes of being transformed into McKinnon Hall, which Stephen describes as "a community space".
"This space is a blank canvas," he said, adding that it's available for business meetings, mini-trade shows or different presentations.
"It could just as easily be a wedding reception venue, we could have dinner and theatre in here… a farmers' market (event), we could have a community event with tables and food, or even a Christmas party with a stage for dancing," he said. "We deliberately left it blank. So what we'll do is we'll skin it up depending on whether it's business- or socially focused. It can be fun with lots of different personalities in here."
One of the things I liked the most was the way the Stephen and Rebekah used the vintage brick  and poured-concrete walls.
"Anywhere we didn't have to cover a concrete wall in the building we didn't," Stephen said. "We took a bit of a power hit doing that but it's worth it; the building is so unusual."
The major renovations included installation of a large elevator, a kitchen and a roof-top hot tub.
Stephen said the Jenkins' decision to purchase the McKinnon Block, which was most recently the home of David and Leslie Evans' Nickelodeon Museum before they moved to Victoria last year, was borne out of a desire to do something radically different with their lives.
They had for years been executives with Microsoft in Redmond and then they discovered Revelstoke, which immediately charmed them. Enpty-nesters, they purchased a house on Mountain Gate Road next to RMR and, for the last four years, operated it as a bed and breakfast.
"We really fell in love with the community as a byproduct of what we thought was going to be a skiing experience," he said.
They have also appreciated the efforts that local companies have put into the Explorers' Society Hotel project.
"We had a lot of local people helping us with the construction," he said. "Where we could find local artisans and then allow them to kind of expand what they do, we did."
Stephen said Rebekah was responsible for all of the hotel's very creative elements.
"This is my wife's work," he said. "She did all of the creative on the project and was the lead down to every light and the design of the furniture. This project was a big canvas that she got to paint on."
Rebekah is not a professional decorator, although she well could be and creative sirit clearly shone through during my tour of the hotel and eatery.
"We bought the building because it was a unique opportunity," he said. "We called it our 'go big or go home' project."
They had two choices: make relatively minor changes to it or "gut it and transform it at high cost."
Did they make the right decision? Here is a series of photos from the tour that may help you answer that question: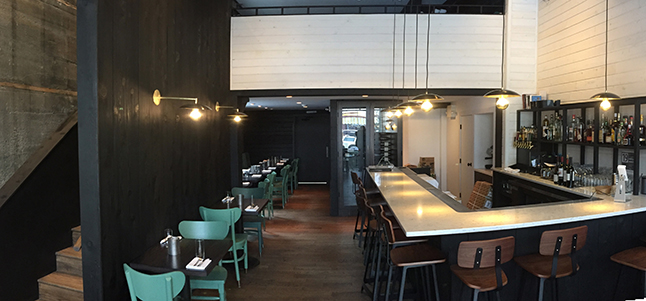 Please click here to visit the Explorers' Society Hotel website.
Please click here to find out more about the Explorers' Society Hotel on Facebook.