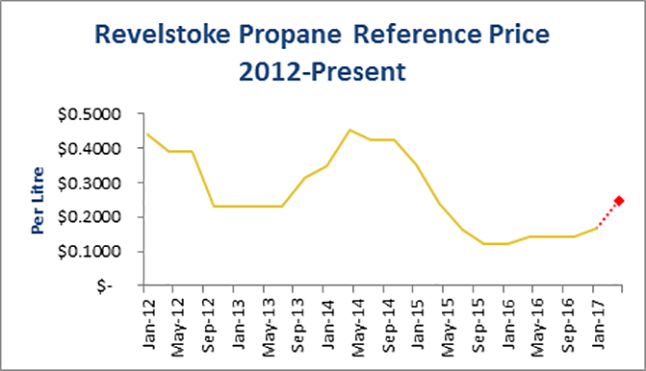 The BC Utilities Commission has approved FortisBC's quarterly cost of gas rates for implementation April 1, 2017.
While the cost of natural gas remains unchanged in all natural gas-based service areas, in the Revelstoke service area, which is supplied with propane not natural gas, the cost will increase. Propane market prices tend to fluctuate more than natural gas.
A statement from the commission said the rate change in Revelstoke comes into effect as the winter heating season ends and will result in a bill impact of approximately $5 per month for the average residential customer. Based on the forecast average cost of propane for the next 12 months, the cost of gas rate will increase from $7.878/GJ to $11.088/GJ for residential customers. The Revelstoke cost of gas rate has been at its lowest level since late 2015 and now returns to early 2015 levels with this rate change. Please see the graph below for the Revelstoke cost of gas rate since 2012 (Note: the price shown is per litre not gigajoule).
Gas costs are a flow-through cost of the market prices that FortisBC pays for the commodity. The BCUC reviews FortisBC's gas costs every quarter and does not approve FortisBC to earn a return or profit off the cost of gas rates.
Natural gas rates are at $2.050/GJ in the Mainland, Vancouver Island and Whistler service areas and $2.086/GJ in the Fort Nelson service area, the utilities commission said.