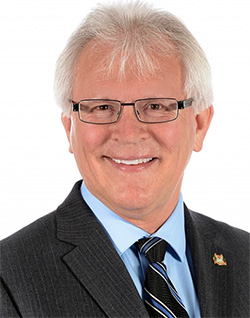 In January, I was invited to participate in the House of Commons Standing Committee on Foreign Affairs and International Development diplomatic mission to four countries – Ukraine, Kazakhstan, Latvia and Poland. The purpose of the 12 day trip was to learn about the key political, security, and economic conditions in these countries 25 years after the break-up of the Soviet Union. Travelling as a committee were four Liberal MPs, two Conservative MPs and me.
My primary focus as your Member of Parliament is serving you here in the riding and being your voice in Ottawa – my staff and I continue to do that every day. What I had not considered is the role Members of Parliament have on the world stage and how important that is for Canada's international reputation and for world peace. We were welcomed and thanked over and over again for coming to their countries. We met with Members of Parliaments, NATO, Senators, Ambassadors, Government Ministers, Educators, members of Civil Society and a Prime Minister.
So what did I learn abroad?
Ukraine is working hard to rid itself of Soviet-era corruption and to embrace democracy while at the same time fighting a Russian-backed war in the Donbass area of eastern Ukraine and seeking to have Crimea, which was illegally annexed by Russia in 2014, returned to them. The current war in Eastern Ukraine has resulted in over 1,000,000 refugees seeking shelter in other parts of the nation.
Our RCMP is helping to train 11,000 young Ukrainian police officers who have not grown up in a culture of corruption. Our military personnel are helping to train Ukrainian armed forces who want to be able to apply for full status in the NATO by 2020. We need to continue to support Ukraine – on February 14 Parliament unanimously approved the new Canada-Ukraine Free Trade Agreement.
Kazakhstan is currently Canada's largest trading partner out of the four countries we visited, valued at around $640 million annually. Kazakhstan is considered a good place for investment by the Canadian business people we met.
On January 25, just after our visit, President Nazarbayev announced his third constitutional reform initiative to redistribute the powers of the president to democratize their political system and strengthen the control of the legislature over the executive. This is an important step forward in bringing additional democracy and in building towards their goal of joining the top 30 most developed countries in the world by 2050. Their capital city, Astana, is hosting the 2017 World's Fair from June to September if you are looking for a unique vacation!
College of the Rockies, along with the Canadian Bureau for International Education, has been contracted by Kazakhstan's University of Central Asia, to conduct an impact evaluation of their School of Professional and Continuing Education. Hockey is big in Asia and the most recognizable player in "Kaz" is former Kootenay Ice Captain Nigel Dawes, who holds several records with the Astana Snow Leopards!
Latvia and Poland have embraced democracy and are also interested in increasing trade with Canada. The number one concern we heard was around Russia's aggression. As one senior member of government put it, "First it was Chechnya in 1999. Then Georgia in 2008. In 2014, it was Russia's illegal annexation of Ukraine's Crimea and the beginning of the war in the Donbass region. In 2015 Russia entered the war in Syria. Our concern is: who's next?"
One of the sayings I heard in the region was, "If you want peace, prepare for war." The importance of having NATO and 450 Canadian troops stationed in Latvia by April of this year as a deterrent to President Putin's aggression was a common theme, as was maintaining the economic sanctions against Russia. The sanctions do hurt the Russian economy thereby reducing their ability to fund more aggression.
I returned from the trip reminded again that we are so lucky to live in Kootenay-Columbia and in Canada.
MP Wayne Stetski
NDP — Kootenay Columbia
PO Box 872 Cranbrook BC V1C 4J6
Tel: 1-250-919-9104
E-mail: wayne.stetski@parl.gc.ca
Find him on:  Facebook | Twitter