By Jason Portras
The Travelling Mabels rolled into Revelstoke with Mama Mabel, Baby Mabel, Purdy Mabel, and Purdy's husband Unstable Mabel putting on an extremely entertaining show at the Performing Arts Centre on February 23.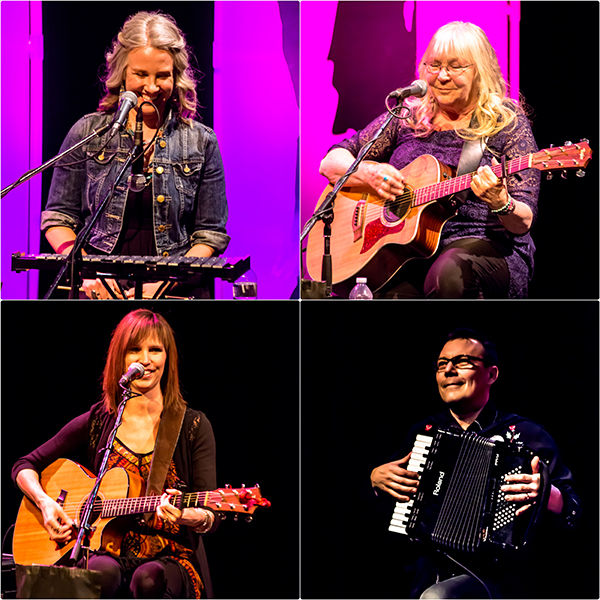 The house was nearly filled, mostly by those with grey hair and great enthusiasm for an act that evoked a lot of nostalgia, spontaneous laughter, clapping hands, and swaying bodies.
The best term I can think to use for their musical style is "rolling," whether that be easy rollin', ragtime rollin', 60's swing rollin', or barrelling-down-the-tracks-in-a-big-steam-locomotive rollin'. It's the kind of music you can dance and tap your feet to, the kind of music that makes driving on the highway enjoyable.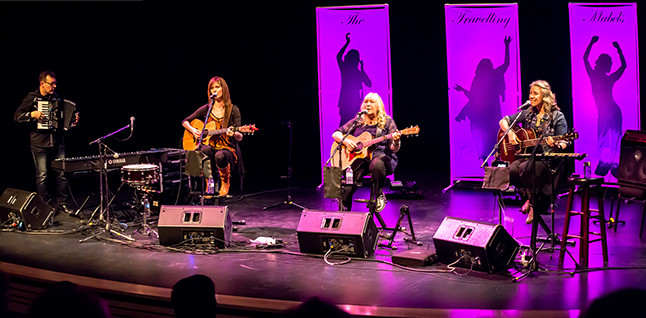 'Mama Mabel' is Eva Levesque, a "former long haul trucker" from Longview, Alberta who started her professional music career back in 1990 and has achieved much success since. She delivers comedic punchlines like a seasoned pro, and can belt out a tune with the intensity and grit of an old blues singer. As my wife noted, her stage presence was similar to past RPAC music man, Fred Eaglesmith. Like him, she also has that amazing ability great storytellers have of making you ponder life and love with barely blinking an eye.
'Baby Mabel' is Eva's daughter, Suzanne Levesque, a talented and successful musician in her own right. It was very rare to see her without a smile up on stage, and her voice literally shook the rafters at moments, stopping time, and focusing every audience member's ears and eyes on her alone. One can certainly see soul runs deep in the Levesque family.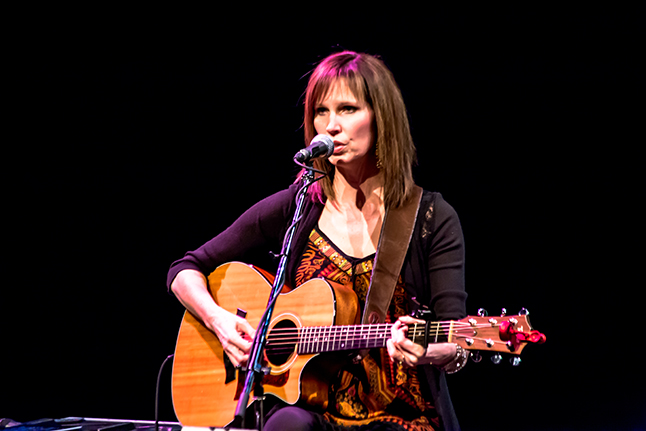 'Purdy Mabel' is Lana Floen, so named "ya know, 'cause she's purdy" as Mama pointed out. This stunning brunette in high boots with an angel's voice once even won a 'Sing With Shania' contest, garnering her the wonderful experience of singing a Shania Twain hit song onstage at the Calgary Saddledome while Shania sang backup vocals in 1998.
Last, but certainly not least, the unforgettable 'Unstable Mabel' is Keith Floen, Lana's husband, the band leader, instrument owner, roadie, stagehand, van-driver, wine delivery man, and veteran musician for the past 30-or-so years. His performance on the keyboard is second-to-none, whether maintaining the backbeat or staying low key and barely noticeable or belting out an audience-grabbing rendition of Great Balls of Fire.
I'd say my favorite moment of the performance was the lead up story to the song Butterfly and its subsequent execution. A thought-provoking story about a girl that wanders and can't find her place in the world, supported by a loving friend that doesn't abandon or judge her even as she leaves them again and again, yet still sings with blunt honesty to her that leaving those she loves will never be the answer either. For me, it speaks to the uneasy reality that life and living it has no simple answers and no magic treasure map to follow.
It was a very good turnout for a band more than worth its talent in gold. Congrats again to the RPAC for bringing another class music act to our quaint mountain town.
If you'd like to see or learn more about The Travelling Mabels, check out their website here or their Facebook page here.
For more pictures from the concert, check out the Revelstoke Life & Times Facebook page here.