By Jason Portras
Yet another successful, fun Novice hockey tournament came to a close on Sunday. It was superb to see all those little faces beaming and flushed from playing this great Canadian game of ours. It was also somewhat of a bittersweet home tournament, as many of the young people in the Novice Division will be moving up to Atom next year. Since the beginning of this season alone, they've all grown and improved their skills so much, it's been a pleasure to witness.
Immense congratulations goes out to Manager Olivia Pauls for heading up the organization, she has done a wonderful job. "It would not have been possible without the help of all the parents!" exclaimed Olivia. When asked about how she felt the weekend turned out, Olivia added, "Sicamous said it is amazing how much the businesses of Revelstoke helped support such an awesome tournament. Salmon Arm also told me it was an awesome tournament, and its the 4th year in a row that they have came and they've never been disappointed."
Large kudos to Chris Erwin as well for graciously sliding into the open Head Coach position, and to Steve Degerness, Greg Kenyon, and Shawn Bracken for taking on the roles of Assistant Coaches. Thanks for taking on jobs that certainly aren't easy or even always popular, but ones that you've all worn exceptionally well. The kids love coming to practice and want to play as hard as they can for you guys, and that kind of success is second to none.
A lot of raffle prizes were given out from a wide variety of Revelstoke businesses. Over $850 total from eleven separate 50/50 draws was also given away to some lucky winners, the largest single prize being a sizable $167!
In Revelstoke's morning game against the Vernon Snipers, the Icebreakers took them by a score of 8-3. The MVP of that game was #2 Rowan Maranyshyn and the Heart & Hustle Award was won by #3 Alex Stevenson. Other notable players were #14 Eldyn Pauls with two goals and #19 Ethan Kungl also with two goals.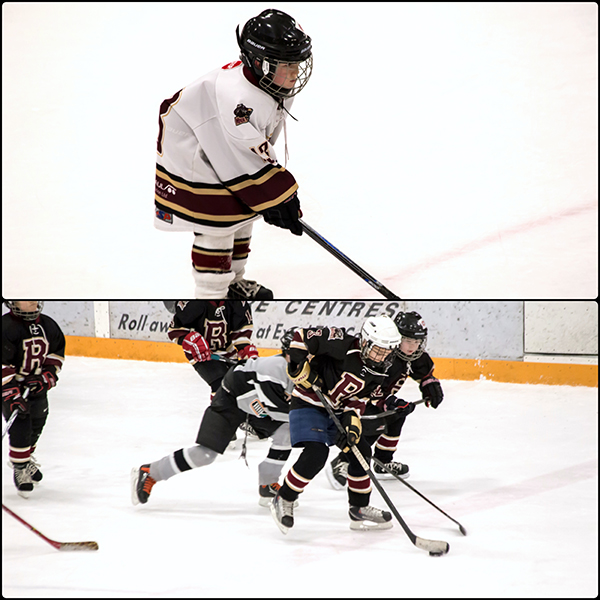 In the afternoon, Revelstoke played the Salmon Arm Greyhounds, winning their fourth and final game and securing a shutout for their tournament run by a score of 9-3. The MVP for the final game was #13 Jett Roche and the Heart & Hustle Award went to #11 Chase O'Neill. Another notable player for this game was #8 Daniel Erwin who scored a hat-trick.
All of the Sunday game scores were as follows:
| | |
| --- | --- |
| Vernon Sharks (9) | Salmon Arm Greyhounds (6) |
| Vernon Tim Hortons Ice Warriors (12) | Kamloops Blue Tornadoes (4) |
| Revelstoke Icebreakers (8) | Vernon Snipers (3) |
| Canmore Eagles (5) | Vernon Sharks (11) |
| Vernon Tim Hortons Ice Warriors (6) | Vernon Snipers (6) |
| Salmon Arm White Tigers (11) | Kamloops Blue Tornadoes (6) |
| Revelstoke Icebreakers (9) | Salmon Arm Greyhounds (3) |
As Mr. Dennis Berarducci, Revelstoke's own 'Mr. Hockey,' orated to the kids from the announcer's box named for him, tournaments like these that teach our kids about teamwork, perseverance, and fun wouldn't be possible without the tireless efforts of hockey parents, coaches, and managers that volunteer their time to Minor Hockey. Hats off to all you wonderful people for keeping sport alive and well in Revelstoke.
For more pictures of the Revelstoke Icebreakers in action, check out the Revelstoke Life & Times Facebook page here.