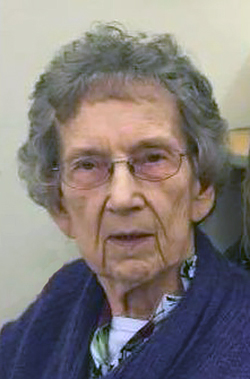 Helen Bertha Luypaert passed away at Mt. Cartier Court Extended Care, Revelstoke on Saturday, February 18th, 2017, at the age of 88 years. A Funeral Service will be held at the Revelstoke United Church on Saturday afternoon, February 25, at 1 pm with Reverend David Cooke officiating. Interment will follow in the family plot of Mountain View Cemetery, Revelstoke. Pallbearers will be Rodney Luypaert, Gordon Lamont, Wally Shouldice, Jerry Dulle, Jim Dulle and Wayne Dulle. Flowers are acceptable, or memorial contributions may be made to the Alzheimer Society of BC, 300 – 828 West 8th Avenue, Vancouver, BC, V5Z 1E2, in memory of Helen.
Helen was born in Broderick, Saskatchewan on July 5, 1928, and had been a resident of Revelstoke since 1964. She loved family gatherings and bringing family and friends together for suppers. Everyone was always welcome to her table for supper. Helen gave great hugs and was kind and generous. Every day she found a reason to laugh.
Helen was predeceased by her three sons Terry Allen in 1962, Lenard in 1967 and Alvin in 1976, son-in-law Frank Gostola on March 20, 2006, and her husband Mike on March 30, 2006, as well as several siblings. She is survived by three children: Sharon Gostola (Ernie Kaatz) of Revelstoke, Cathy (Roman) van Goor of Revelstoke and Rhonda (John) Reimer of Edmonton; three grandchildren: Jennifer (Jesse) Hedley of Revelstoke, Stephanie Reimer of Kelowna and Nicholas Reimer of Edmonton; three great grandchildren: Caden, Harlow and Skarlett Hedley; one brother Ken (Shirley) Boe of Melfort, Saskatchewan, as well as numerous nieces and nephews.
Helen's family want to thank Dr. MacDonald and the staff of Mt. Cartier Court for the wonderful care of their mother.
Messages of sympathy may be sent to Helen's family by viewing her obituary at: www.brandonbowersfuneralhome.com.
Arrangements are in the care of Brandon Bowers Funeral Home, Revelstoke.