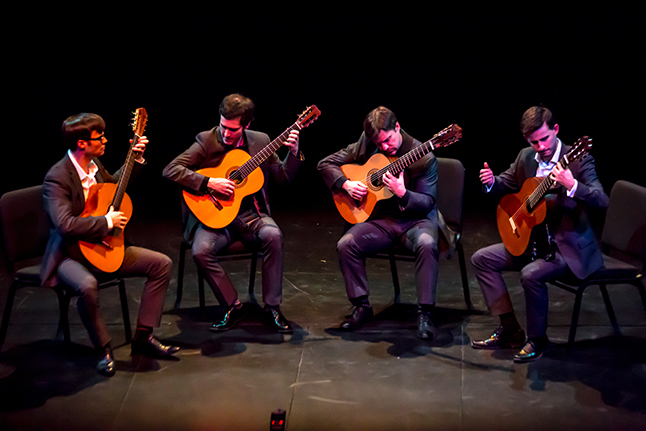 By Jason Portras
The Canadian Guitar Quartet made a stop at the Revelstoke Performing Arts Centre on Thursday February 2, wowing a nearly packed house with their musical prowess, as they filled the space with Latin beats and renditions of classical standards.
The Quartet, in its latest incarnation, consists of Louis Trépanier, Bruno Roussel, Julien Bisaillon, and Renaud Côté-Giguère, all masters of the guitar in their own right, with impressive credentials yet humble personalities. "We aren't rock stars," proclaimed Bruno from the stage, "we're nerds."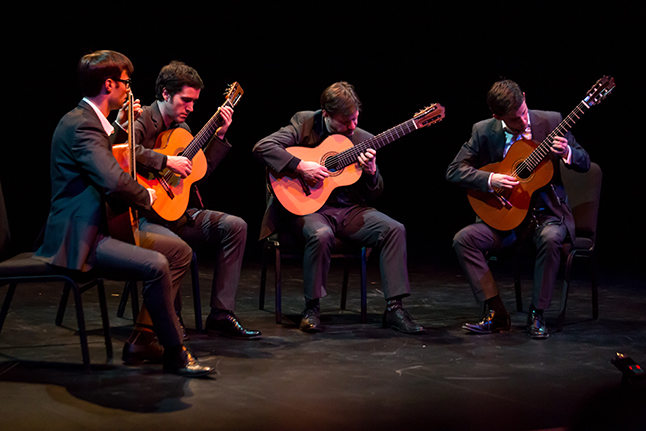 The night consisted of many interesting and intriguing compositions. I particularly enjoyed Renaud's Fille de Cuivre ("Copper Girl"), a "sensitive piece" as he defined it, inspired by a Jean-Louis Émond sculpture of a girl. As Renaud described, Émond welded small pieces of copper together, creating a smooth finish on the front façade, but leaving the back open, exposing the intricate welds to those who view it. He sees this as showing one can be strong on the outside, but fragile on the inside. And that's where he got his inspiration for this piece. It was beautiful and moving. If you'd like to see some of Jean-Louis Émond sculptures, check out www.jeanlouisemond.com
Danse Macabre, by Camille Saint-Saëns and arranged by Louis Trépanier was intensely spooky, yet eerily quiet at times. The original composition was setting poet Henri Casalis' work of the same name to music. Louis' vision for the work set it in 1800's France on a cold Winter's night in a graveyard, where Death called the dead to dance and cavort lasciviously though the night until the light came back up and a rooster crowed. Louis observed that the original composition marked the first time the xylophone was used in an orchestral work, imitating the sounds of bones rattling as they danced. The Quartet mimicked this sound by strumming the strings above the headstock nut.
The last official piece (there was an encore), which garnered much applause and a few laughs was the Lone Ranger theme, Rossini's William Tell Overture, as arranged by Bruno Roussel. The group of highly talented musicians greatly deserved both standing ovations they received.
If you'd like to follow the Canadian Guitar Quartet on Facebook, you can find them here. Their website is www.canadianguitarquartet.com.