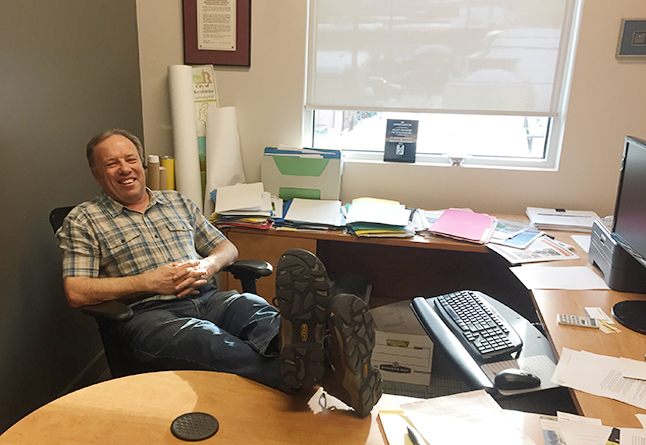 By David F. Rooney
It's 3:30 on a mild Friday afternoon, and Alan Mason is being interviewed about his 15 years as Revelstoke's director of Community Economic Development. He looks relaxed and why shouldn't he? Mason only has a week to go until he retires. Eventually, he puts he feet up on his desk and tilts back in his office chair.
Over the years Mason, who started out as a community-oriented guy, came to Revelstoke in 1995 from Richmond where he had worked in community development.
"I managed the (now defunct) community skills centre," he said. "And when this job became available, I applied."
Along the way Mason was influenced by active, community-oriented people such as Doug Weir, Geoff Battersby, Mark McKee and Steven Hui. McKee and Hui are well-known individuals in Revelstoke today. However, newcomers to Revelstoke may not know who Weir was. The Trail native was a very popular director of Community Economic Development for 15 years before he retired in 2001. He died in 2002.
Like Weir, Mason worked hard to find solutions to economic development. Among the notable projects he was involved with over the years were:
The Aquatic Centre;
The expansion of downtown revitalization efforts from Grizzly Plaza to Third Street West;
The development of Revelstoke Mountain Resort;
Construction of the Mark Kingsbury Bridge down in the Illecillwaet Greenbelt;
The installation of high-capacity broadband;
Construction of the Visitor Information Centre; and
Various affordable housing projects, including last year's Oscar Street project and the small cottages at Begbie Manor.
"One thing that's interesting is that Revelstoke had only had two community economic development guys," Mason said.
"There's a widespread understanding here that economic development is not something that happens overnight."
It takes time and effort to successfully nurture economic development projects in small rural centres, such as Revelstoke.
When Mason arrived here he found a community that appeared to be in decline. The city's population had been dropping steadily since 1996 and the Vancouver Sun ran a story that identified Revelstoke as one of BC's four sunset communities. Many people thought Revelstoke should become a retirement community and attract well-heeled seniors.. Others wondered why the City did not work to attract a factory or two.
"It was a different place," he said, adding that no one was lining up to invest millions in a widget factory.
Some people in Revelstoke had, over the years, begun dreaming of ways to develop tourism as the smart economic alternative to the logging and railway operations that were mainstays of the local economy.
However, there was so much in-fighting over the ski hill that nothing positive seemed to happen until 2005 when the-premier Gordon Campbell came to Revelstoke to sign the Master Development Agreement that made RMR's development inevitable.
As much as some people dislike the resort, Mason says its success injects millions of dollars into the local economy and provides steady seasonal employment for hundreds of people, many of them the children and grandchildren of local families.
"The resort has been the biggest addition to the city's economic base," he said. "The one thing we've had going for is the friendliness of local people. That's something you can't buy."
For much of the last 15 years Mason has been the go-to guy for sensible economic development. He has sat on dozens of committees and been the City's liaison to many non-profit groups. His knowledge of Revelstoke is almost-encyclopaedic and his grant-writing skills are legendary.
"There are a lot of new people in town and we have to better integrate them into the community," Mason said.
But that will be a task for Alan Mason's replacement — Nicole Fricot, who was selected from a field of 41 applicants. Making progress on affordable housing will be another file that Alan will gladly relinquish along with a few words of advice:
"Just listen to the community. Find out what local people want. And not just true locals, either. There are a lot younger people here who have new ideas we can tap into. You can't go wrong."
What does the future have in store for Mason? He said he and his wife Janet Lemieux are not planning on leaving. Janet's still working and Alan says he plans on taking the next six months off.
After that, we can expect to see him continuing his interaction with the community.
Enjoy your retirement, Alan. You've earned it.