By David F. Rooney
Dinah Collette, proprietor of the Spice o' Life on First Street East knows how tough it can be when you run a small business. Not only do you have to worry about your stock and your sales but even when times are good you sometimes have to worry about the jerks who steal your signs.
And that's been the case for the past week since some creep stole her Sex Shop sidewalk sign between 4 pm and 6 pm on Wednesday, January 11.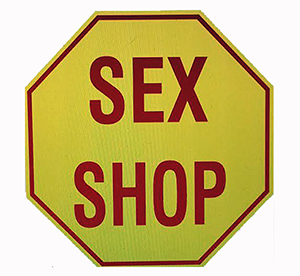 "Many customers won't stop by if they don't see the sign," she said.
Now Dinah is offering a reward for information that leads to the recovery of the sign and/or the arrest of the thief, she said, adding that she would be very, very pleased if the sign just "magically reappeared."
If you know where the sign is or who took it please call Spice o' Life proprietor Dinah Collette at 250-837-2002. Alternatively, you can send her an email at maxemporium69@gmail.com or send her a Facebook message at facebook.com/dinah.collette.
I wish Dinah luck in getting her sign back. I know what it's like to have some thoughtless little sociopath steal a valuable sign, forcing you to shell out more money to replace it.