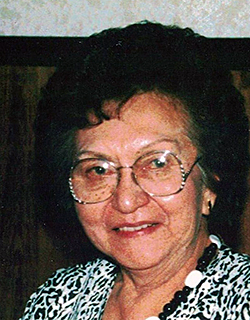 Our mother, Alice Winnifred Kelley, died on Friday morning, December 30, 2016, at age 98 years. Alice lived in Revelstoke for 40 years, the past 3.5 in Mount Cartier Court. She is survived by her children Donna and Roy Beaumont of Salmon Arm, Barbara and Len Conradson, Revelstoke, Tom and Joan Kelley, Kamloops, and Mike Kelley, Revelstoke.
Mom will be greatly missed, but always loved, by granddaughters, Launa Payne, Monica Boschmann, and Lindsey Kelley and grandsons Trevor Clark, Ken Montie, Marty Hein, Jason Kipping, Dustin Kelley, and Thomas Duthie. Alice had many great-grandchildren, Martina, Spencer, Lacey, Jackson, Darby, Teigan, Luke, Evan, Colton, Alexandra, Kasandra, Johnathon, Tyler, and Kiersten, many of whom were able to have a long relationship with grandma Alice because of her long life. Great-grandson Reece Hammond was able to visit Grandma Alice and entertain her, and keep mom and Mount Cartier staff laughing. Alice met her great great-grandson Roan, and saw photos of great-great-granddaughter Willow.
In the 1960s, Alice worked at Boat Encampment Lodge and also ran a concession stand at the Mica Creek rec center. Later, in Revelstoke, she managed the bus depot near Zalas, and cooked, baked and supervised at the ABC restaurant.
Mom also enjoyed her work providing home care for seniors in Revelstoke.
Alice will be buried in Mission, BC, in the spring with a traditional St'at'icm burial. Alice was the oldest member of the First Nations Band of Port Douglas, BC, (Xa'xtsa) located at the head of Harrison Lake. She was born there in 1918 to Charles and Agnes Purcell.
Rest In Peace, our beloved, strong, kind and loving mother, grandmother, great-grandmother, and great-great-grandmother. You are missed.
Messages of sympathy may be sent to Alice's family by viewing her obituary at www.brandonbowersfuneralhome.com. Arrangements are in the care of Brandon Bowers Funeral Home.