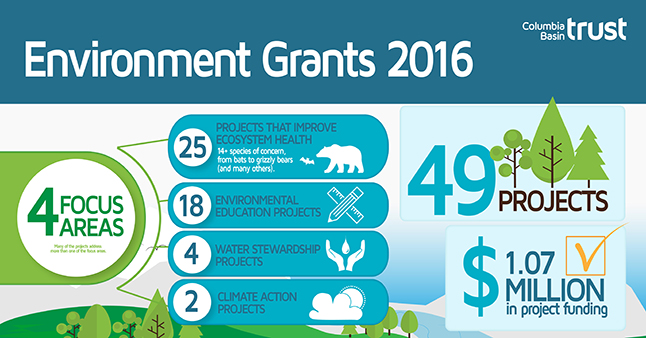 Forty-nine projects were approved for funding in 2016 with a combined total of $1.07 million from the Columbia Basin Trust's Environment Grants program. The projects address one or more of the program's four goals: Ecosystems, Climate, Water and Environmental Education.
"We know residents value a healthy environment,"  Tim Hicks, the Trust's manager for Water and Environment. "We are pleased to support so many worthwhile projects that will contribute to environmental well-being."
Projects in the Revelstoke area include:
Conservation Outreach in the North Columbia – Deliver an education program for Revelstoke residents to learn about wildlife and habitat conservation;n and
Farm-To-Table Environmental Education Programs – Deliver a school-based environmental education program that teaches students how the food system connects to biodiversity, ecosystem health, climate change, and water systems.
Basin-Wide projects are:
Grizzly Bear Coexistence Solutions – Improve human-grizzly bear coexistence in the Basin by delivering community-based education and providing practical solutions, such as electric-fencing for attractant management;
Columbia Basin Wolverine Research and Outreach – Model the population abundance of wolverines to better understand the effects of human disturbance and land management activities on wolverine density within the Columbia Basin; and
Mainstreams Education and Stewardship – Deliver an environmental education program for both schools and the public focusing on water science, macro invertebrate ecology, and climate change adaptation.
For more information about the program and to read about the 2016 approved projects, visit ourtrust.org/eg. To learn all the ways the Trust supports environmental well-being in the Basin visit ourtrust.org/environment.
The Columbia Basin Trust supports efforts to deliver social, economic and environmental benefits to the residents of the Columbia Basin. To learn more about the Trust's programs and initiatives, visit ourtrust.org or call 1-800-505-8998.