By David F. Rooney
The City is seeking public input into its proposed Trails Strategy, which is being unveiled during an Open House at the Community Centre on Monday afternoon starting at 4:30 pm.
The Open House ends at 6:30 pm and City staff along with the consultants in this project will be available for questions.
As many people know, Revelstoke has many trails for pedestrians and bicyclists but it lacks a clear strategy for their continued development and management. The Strategy has identified six classes of trail ranging from paved trails open to both pedestrians and cyclists, through to different kinds of unpaved trails and, finally, to in-town roads and streets that need bike lanes.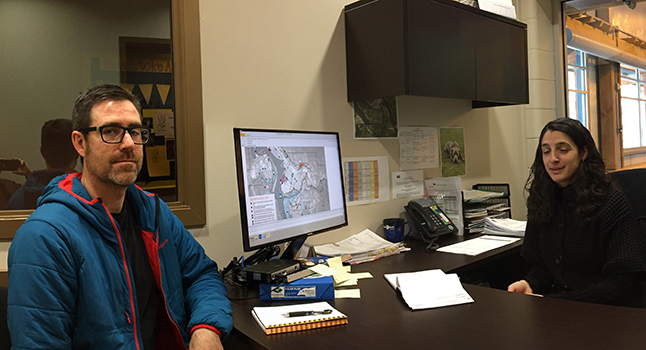 All told, says Fraser Blythe of Selkirk Design, there are 422 kilometres worth of trails in the city and its immediate environs such as Boulder Mountain, Frisby Ridge and Mount Macpherson. However, while the strategy's real focus is the network of trails that exist solely within the city's boundaries.
Laurie Donato, director of the City's department of Parks, Recreation and Culture, said the purpose of the strategy is to:
Create an inventory of all known trails inside Revelstoke's municipal boundaries;
Analyze and quantify the existing trails;
Develop criteria for the development of new trails;
Identify and prioritize trail enhancement and / or development opportunities;
Establish new trail standards;
Develop illustrative signage for trailheads; and
Minimize liability associated with trail development.
Off and on for a number of years, City Council has been considering a system of trails that are all connected so that someone could begin cycling along the river from Columbia Park. They could then hook up with the River Trail at Centennial Park and then cross the Illecilewaet Greenbelt using the pedestrian bridge and continue up to lower Arrow Heights and eventually reach RMR.
There are a number of breaks in the existing trail web and a few environmental challenges.
"Ideally we want to connect the pedestrian bridge to Arrow Heights, but there are challenges," Donato said. Much of the area across the bridge is underwater in the spring and summer."
Blythe said he hopes to find ways to stitch the networks together.
"There are a few property issues with landowners," Donato said. "When you're planning this kind of network it seems cut and dried and everything seems fine and all the pieces look like they'll all lineup. It's when you have to deal with landowners that property issues actually rise to the surface."
Flood-plain issues and coming up with the money to actually achieve all the development targets will take some doing, Donato said.
"I think it opens up a lot of opportunities for visitors and residents for safe travelling and exploring the community," she said. "I think there's real value in that."
Another aspect of the strategy is coming up with easily recognized signage.
Click here to read the information package associated with the Open House.