By Laura Stovel
On December 6th and 7th respectively, students at Revelstoke Secondary School (RSS) joined staff from the Revelstoke Women's Shelter to commemorate the National Day of Remembrance and Action on Violence against Women and to recognize the continuing struggle for protection and justice for Missing and Murdered Indigenous Women. In doing so they stressed the importance of healthy relationships and the responsibility of both men and women for the safety of women and children in our communities.
On December 6th, more than 65 students talked with Women's Shelter staff in the school's main hall, honouring the 14 female engineering students who were murdered at L'École Polytechnique in Montreal. The women were targeted specifically because of their sex by a gunman who claimed he was fighting feminism.
"I believe violence touches a lot more women than we're aware of. We like to think our women and children are safe but there are still many women and children who face violence every day," said Lynn Loeppky, team leader at the shelter.
Some of these women and children find refuge at the shelter and the numbers remain fairly constant over the years. "Currently we're fairly busy," she said. "We're fairly full most of the time with both women and children."
Loeppky, who has worked at the shelter for nine years, has observed some trends. "More elderly women are coming into the shelter. Abuse is touching them in a different way." Sometimes abuse is not physical; it takes other forms. "There's a lot of financial and emotional abuse," she said." Also, "more and more women are recognizing that their situation is abusive" and they are reaching out for help.
On Wednesday, Women's Shelter workers, who host a weekly table at RSS focusing on healthy relationships, teamed up with Aboriginal Education Support Worker Lisa Moore to highlight the ongoing struggle to address the safety of Aboriginal women across the country.
Using a medicine wheel, they highlighted the importance of balance in a healthy life and healthy relationships. The medicine wheel has "four quadrants of mental, spiritual, emotional/social and physical health," explained a Women's Shelter staff member. "When one of these quadrants is off balance then the others seem to fall apart as well."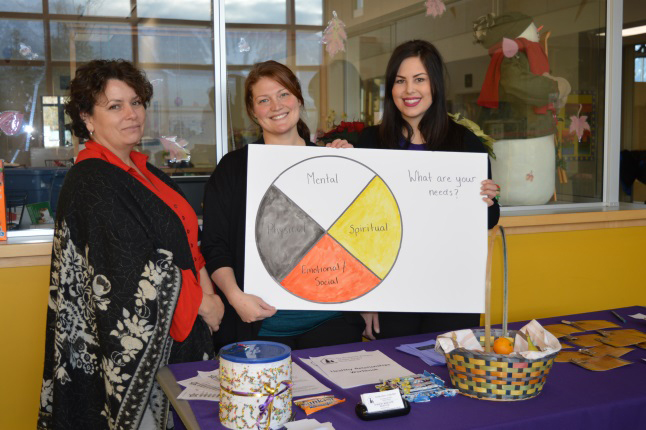 One interesting item at the table was moose-hide squares with safety pins attached. These are part of the Moosehide Campaign which recognizes men's responsibility in respecting and protecting Aboriginal women and children.
The campaign was started by Paul Lacerte who was hunting one day in 2011 with his 14-year-old daughter Raven near the Highway of Tears, a highway linking Prince George and Prince Rupert where, according to the Moosehide Campaign website, "dozens of women have gone missing or been found murdered."
As Moore explained, Lacerte "realized where they were and realized that his daughter was at that vulnerable age so he decided to do something about it. He started this campaign where men, particularly indigenous men, are encouraged to take responsibility for the safety of women and children and acknowledge their role in the violence."
The steady demand for Revelstoke Women's Shelter's services and too-frequent stories in the national headlines about violence against women and children shows that there is still a lot of work to do. By holding this year's commemoration at the high school Loeppky hopes that Revelstoke youth "will recognize that there is violence against women, that it touches all ages," and they will be inspired to act.