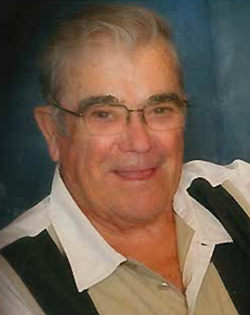 Micheal (Mickey) MacDonald passed away at Royal Inland Hospital, Kamloops, on Wednesday, December 21st, 2016 at the age of 84 years.
There will a Celebration of Mickey's life in the spring of 2017, when all family and friends will have safer roads for travelling. Mickey's cremated remains will eventually be laid to rest 'back home' near other family members in Cape Breton. In lieu of flowers, memorial contributions may be made to the Revelstoke District Health Foundation for the Queen Victoria Hospital Helipad, Box 2421, Revelstoke, B.C. V0E 2S0.
Mickey was born in Soldiers Cove, Nova Scotia, on November 7, 1932, and had been a longtime resident of Revelstoke. He worked and excelled as a Heavy Duty Mechanic in the construction industry and the talents he learned there served him well over the years. He had restored a multitude of old cars including the 1950 Mercury Monarch which he still owned. Mickey was also a member of the Revelstoke Vintage Car Club and was recently presented with a Lifetime Membership.
He enjoyed sitting on his front porch, watching the sights and sounds of the community but what really thrilled Mickey was 'the open road' and spontaneous road trips. He loved to travel and driving was the best way to get anywhere. Mickey never drove by anyone in need, always stopping to assist anyone stranded on the side of a road. He had big heart and helping others was his quiet passion.
Mickey was predeceased by his wife Vie in 2000, and one sister, Agnes Sutherland.
He is survived by his daughter Tina (Mark) Hieb of Calgary, grandson, Owan; two sisters: Peggy Collet and Mary Jessie Savoie both of Soldiers Cove, Nova Scotia and his friend and companion Betty Ferguson of Revelstoke as well as numerous nieces and nephews, his extended Revelstoke family: Mick Sutherland & family, Alan Sutherland & family, Les Sutherland & family and Lil Sutherland, as well as a host of good friends.
Mickey's family is especially grateful to the medical community for their considerate care given to him during his many years in Revelstoke. A special thank you to Doctors Chris MacDonald and Jennifer Wild for their attentiveness and special assistance.
Messages of sympathy may be sent to the family by visiting Mickey's obituary notice at www.brandonbowersfuneralhome.com.
Cremation arrangements are in the care of Brandon Bowers Funeral Home Revelstoke.