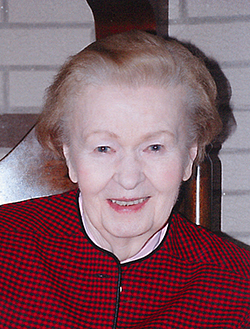 Julia Cyronek passed away at Mt. Cartier Court Extended Care on Saturday, December 10th, 2016 at the age of 91 years. A Mass of Christian Burial will be held at St. Francis of Assisi Catholic Church, Revelstoke on Thursday morning, December 15th, 2016 at 11 am with Father Aaron de Dios celebrant. Interment of Julia's cremated remains will follow in the family plot of Mountain View Cemetery, Revelstoke.
In lieu of flowers, memorial contributions may be made to Mt. Cartier Court Extended Care through the Revelstoke District Health Foundation, P.O. Box 2421, Revelstoke, B.C. V0E 2S0.
Julia was born in Handlova, Slovakia, on August 7, 1925, and had been a resident of the Revelstoke area since 1956. She enjoyed gardening and crocheting. Julia always had a beautiful array of house plants. When she was still able, Julia loved walking and met her friends for coffee every morning at the A & W. She loved to cook and bake, especially for her grandsons. Julia also enjoyed visiting with friends and family and entertaining. She was a very proud, independent woman.
Julia was predeceased by her husband Walter and her three sisters: Maria, Helena and Elizabeth. She is survived by her son Walter (Val) Cyronek of Revelstoke and two grandsons: Michael Cyronek of Kamloops and Mark Cyronek of Calgary.
Messages of sympathy may be sent to Julia's family by viewing her obituary at: www.brandonbowersfuneralhome.com.
Cremation arrangements are in the care of Brandon Bowers Funeral Home, Revelstoke.