By David F. Rooney
School Board 19 will be short a trustee in mid-January when Trustee Leslie Savage and her husband David leave Revelstoke for Toronto.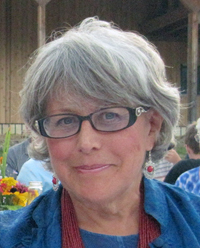 "Once it all becomes official we will do what we have to do, at least as far as the legal requirements are," Board Chairman Bill MacFarlane said at the end of the last week's board meeting (you can see his response to a question at the 00:32-minute mark on video below).
Savage, who was also a Revelstoke Current food editor and columnist (please click here to read her columns), began quietly letting family members, friends and colleagues know earlier this month that she and David had decided to relocate. They have already sold their Fifth Street home and will be moving into a condo. Their decision to move reflects the health concerns that increasingly preoccupy them. They have to drive to Kelowna or Kamloops every month and they find that simply stressful and impractical. In Toronto, they'll find easier access to the health-care facilities they reply on.
The next local government elections are slated for Saturday, October 20, 2018. The provincial government's Election Procedures in British Columbia: A Guide for Boards of Education, Administrators and Election Officials says:
"By-elections must be held to fill vacancies on boards of education that occur between general school elections (for example, when a trustee resigns from office, dies, is convicted of an indictable offence, or the office is declared vacant for conflict of interest) [School Act, section 36 (1)]. But if a board vacancy occurs after January 1st in the year of a general local election (2014, 2018…), the board of education may decide to hold the vacancy open until the election, provided that at least three trustees remain in office [School Act, section 36 (2)]. (The procedure for a by-election is reviewed in Chapter 16.) The term of office for a trustee elected in a by-election begins upon taking the oath of office and ends in accordance with section 49 (b) [School Act, section 36 (7)]."
In other news emanating from the meeting, the board was pleased by the turnout of parents for the November 22 meeting held at RSS. See page 12 of the agenda. Please click here to view the board's agenda for the November 23 meeting. Superintendent Mike Hooker said the meeting highlighted the desire for clearer communication between educators and parents as opposed to the a wholesale change to the method of grading students.
You can watch what was said at about the 6-minute mark on the video below:
Friends of David and Leslie can help them simplify their lives by attending their December 3 Porch & Garage Sale between 9 am and 5 m. They are selling bookshelves, power and hand tools, kitchenware, books, knick-knacks.