By David F. Rooney
This Sunday, December 4, (NOT as was incorrectly stated in an earlier version of this story) Revelstokians have an opportunity to show their support for pipeline protestors in  North Dakota. The demonstration is set to begin at 7:30 pm at the Inukshuk in Centennial Park.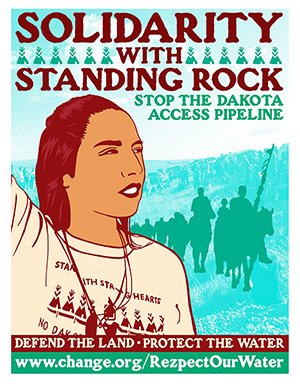 This chance for local residents to show their solidarity with Sioux tribal members and their allies who are protesting the Dak0ta Access Pipeline, would also seem like an ideal opportunity to protest the Trudeau government decision to approve the Kinder Morgan Trans-Mountain pipeline and Enbridge's Line 3 pipeline.
However, when asked if Thursday's demo would focus in any way on the Liberals' decision one of the demo's organizers, Sarah Newton, said: "Not really. It's a vigil to show support for the plight of indigenous people and their struggle for control of their rights, from the Dakotas to other locations around the world."
Fellow organizer Borucz noted that "because the news of that approval is so new, I did not anticipate it. I'll be reading up on the Line 3 and Kinder Morgan approvals and I'll be willing to discuss what it means and how we can move forward."
Regardless, in a post on the protest's Facebook page, she explained that the protest is "in support of the Water Protectors of Standing Rock Sioux Tribe, who are peacefully resisting the Dakota Access Pipeline from ripping through their ancestral homelands and threatening their water, sacred places, and future of their children, we in Revelstoke, BC, will gather for a night of peaceful action of solidarity."
Revelstokians who plan to show their solidarity are being asked to bring a few items to the protest, which is expected to last one hour.
"Remember to bring your headlamp/flashlight or a candle so we can help 'shine a light' on the issue," Borucz said in an email. "Also, if you have access to a hand drum, it'd be nice to create a feeling of unity at the event. If you have any suggestions, or know someone who would be a good addition to the event please let me know so we can be in touch."