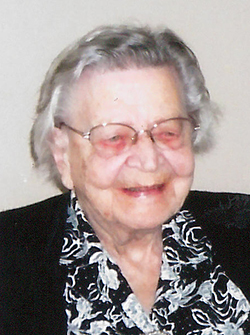 Margaret Isabel Faucett passed away at Mount Cartier Court Extended Care, Revelstoke, on Thursday evening, November 3, 2016, at the age of 97 years.
Only daughter of David and Florence Hall, pioneers of Hall's Landing later known as Sidmouth. Margaret spent her childhood on the family farm in Sidmouth and married Roland (Rollie) Faucett in 1941. Together they opened Central Store and raised their family there until 1967 when they relocated to White Rock. After 40 years she returned to Revelstoke where she spent five years at Moberly Manor and three and half years at Mount Cartier Court.
Margaret was a much loved grandmother to her five grandchildren and eleven great grandchildren.
She loved to spend her time working in the garden, knitting, reading and being with her family.
Margaret was predeceased by her loving husband Rollie in 1977 and her brothers Wallace and Bob Hall. She is survived by her daughter, Marilyn (Ron) Davis and son, David (Sharon) Faucett, grandchildren: Brad, Mark, Rob, Kerri and Gail and eleven great grandchildren.
Our deepest gratitude goes out to the staff of both Moberly Manor and Mt. Cartier Court and her doctor Cam MacLeod for their loving and compassionate care of Mom.
A family gathering will be held at a later date.
Messages of condolence may be sent to the family by visiting Margaret's obituary notice at www.brandonbowersfuneralhome.com
Cremation arrangements are in the care of Brandon Bowers Funeral Home, Revelstoke.