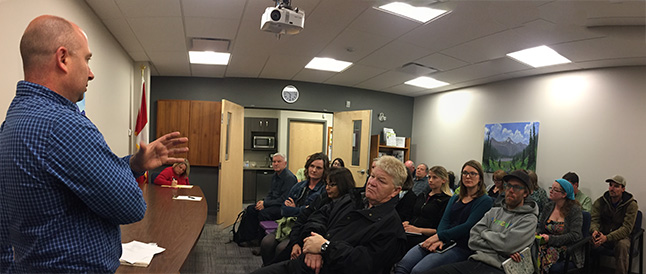 By David F. Rooney
Community Futures has taken the first steps towards the solution for the housing crunch that is making it difficult for business owners to attract and retain staff.
The problem is not yet a crisis but it is forcing them to come up with a solution: staff housing.
About 30 business owners, City Councillors and members of the Community Housing Society met with Community Futures manager Kevin Dorius last week to discuss this issue.
"The population I'm thinking about includes the servers, lift attendants and so forth who are coming here with most of their possessions in the back of their vehicles to work," he said, adding that the housing crunch makes it difficult for them to find places to live.
Some businesses such as the Regent and the Hillcrest have addressed the housing crunch by purchasing houses for staff to live in. However, that's not possible for smaller enterprises.
"Sixty to a hundred units could put a dent in the problem," Dorius said. "Down the road I'm thinking there will be some kind of strata fees involved… and some kind of paid management."
While it is still a long way off, discussion revolved around ways to structure an employee-housing project. Suggestions ranged from a university-style staff residence to a condo-type project. Whatever form is ultimately selected, this project would only be open to employees of participating businesses. Most of the units would likely be for single men and women, however, there could well be dwellings for small families, too.
"It would be up to the individual businesses who they'd like to house," Dorius said.
Hillcrest General Manager Norm Langlois said the hotel just bought a house for junior staff.
"It's really, for us, the seasonality (of employment patterns that matter)," he said. "Our year-round staff tend to live here year-round. But then we tend to get people who are here for four months in the summer and four months in the winter."
The project, if it goes ahead, could be built on the City-owned land at Powerhouse Road and Oscar Street behind the Community Housing Society's recently completed affordable housing project.
No matter the design of a staff-housing project, it's going to be fairly costly – even with staff paying rent. Mark McKee, who attended the meeting as chairman of the Community Housing Society, noted that there are substantial grants available to help finance projects like that. BC Housing, the Columbia Basin Trust have helped in the past and may well do so in the future. And then there is the federal government, which has recently signaled its willingness to underwrite the cost of housing.
"We've talked about this concept at the housing society in the past," McKee said. "And we've talked with other resort communities about this . You have to be careful about putting all your eggs in one basket could ghetto-ize the area… I just throw out the idea that if you're talking about 60 to 100 units you've got be careful."
Another concept that was briefly discussed was building a man camp. It sounds like a useful idea but they're impersonal, ugly and very expensive to operate. In many ways they essentially function like hotels, with staff to clean and cook.
Lew Hendrickson of Vic Van Isle noted that "the physical cost (or constructing a staff-housing project) comes out at $150 a square foot — there's no magic to it."
"We can't create a silver bullet that's going to solve all of our housing issues in one fell swoop," Dorius said. "It's going to be ( solution)… to our employee retention problems where businesses find the staff they want but can't keep because there's no place for them to stay."
The meeting ended with many of the business owners providing their contact information to the CFDC's Brooke Burke. We'll doubtless hear more about this in the months to come.