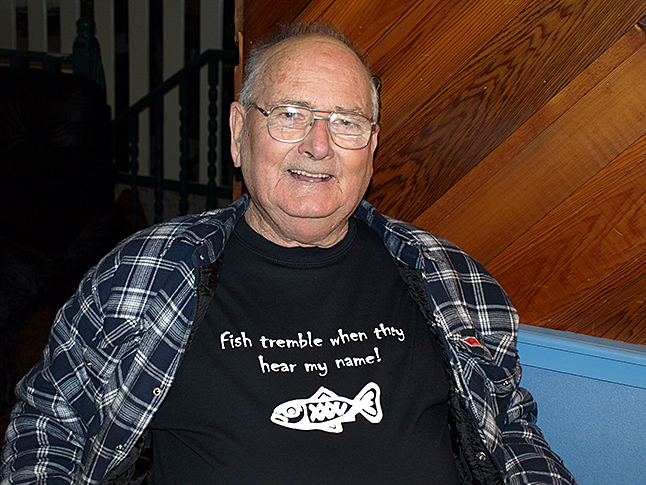 Tom McMahon passed away Wednesday, October 26, at Queen Victoria Hospital following a short illness. Family and friends from out of town and locally made his life more meaningful these past few weeks.
Tom was born in Revelstoke on January 3, 1929, to Tom & June McMahon. He attended school in Revelstoke and was well known for his love of the outdoors, fishing, hunting, skiing, ski jumping and swimming. In 1948 Tom started to work for the CPR as a fireman, loading rock at Albert Canyon during high water.
He married Margaret Sinfield in April 1951 and they had 3 children. His work career took him many places along the CPR line in BC. In the winters he worked on the snowplow and spreader. In 1968 he became Snowplow Forman East and retired from that position in 1985.
Tom especially loved to fish. Camping with his grandchildren, mushroom & huckleberry picking, cutting firewood, and cheering on his Montreal Canadiens were his favorite passions. The family has a wealth of humourous stories of Tom's adventures.
In 2006 Margaret passed away and Tom lived independently in his own home until the last two weeks. He found friendship with the afternoon group who gather at the Legion and also the members of the Railroad Museum who valued his wealth of CPR knowledge.
His great grandchildren were the love of his life.
Tom was predeceased by his parents and wife Margaret. He is survived by his 3 children – Marla (Jim) Manson of Revelstoke: Tom (Gina) of Westbank; and Julie (Bill) King of Victoria. He is also survived by his sister Lois (John) Steeves of Victoria and his sister-in-law Marion Jones of Revelstoke. He is survived by 4 grandchildren; Ryan (Tasha) Manson, Shawn Manson, Kelly & Kris McMahon and 3 Great Grandchildren Skyler, Mya and Maxwell Manson. He leaves behind numerous nieces and nephews and his special friends in the Krug family who gave him so much joy.
There is no funeral as per Tom's request. The family will meet in the spring to inter his ashes. In lieu of flowers a donation could be made to the Royal Canadian Legion, Branch 46, Revelstoke, P.O. Box 2370, Revelstoke, B.C. V0E 2S0, or the Legion in your area in memory of Tom.
Messages of sympathy may be sent to Tom's family by viewing his obituary at: www.brandonbowersfuneralhome.com.
Cremation arrangements are in the care of Brandon Bowers Funeral Home, Revelstoke.