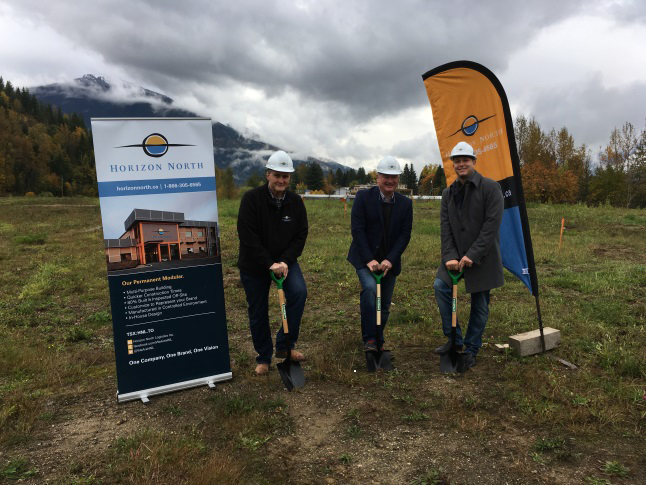 By Laura Stovel
If Horizon North president and CEO Rod Graham is correct, a new Ramada Inn on the TransCanada Highway should be completed by May of next year. After a turbulent ride finding the right fit for the property called Revelstoke Crossing, City Council and the community seem to be behind the new development.
Canwest Hotels Ltd. co-owner Paul Deutsch of Golden said that the permit process for the company has been smooth. "The City of Revelstoke has been incredibly helpful in terms of permitting," he said, adding that Steve Platt, a previous property owner who wanted to build a hotel on that property, "put in the first 11 rounds for me and has been a wonderful mentor."
Revelstoke Crossing was in the news last fall when a shopping centre proposed by developer Hall Pacific was opposed by many in the community and was eventually rejected by City Council.
Mayor Mark McKee and City councillors Gary Schultz, Aaron Orlando and Scott Duke were on hand at the groundbreaking ceremony on Friday to talk with the owner and developers and celebrate the beginning of construction.
Horizon North, the general contracting company for the hotel, will begin constructing the modules that make up the hotel in their plant in Kamloops in two weeks.
Graham said that because of the efficiency of designing and working with preconstructed modules, the quality and timeline are predetermined. The modules are being built concurrently with the work on the ground so "you don't have to worry about the snow or the rain or tradespeople not showing up."
This method of construction does not translate into many local construction jobs. There will be some trades jobs, Graham said, but most of the jobs will be in Kamloops. Most jobs related to the hotel will be in the hospitality industry, he added.