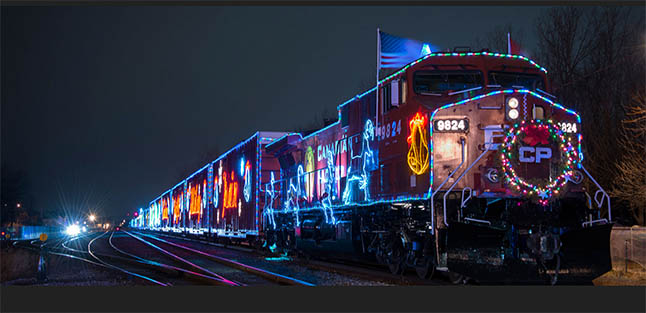 The Canadian Pacific Holiday Train is back for its 18th year raising money, food and awareness for local food banks. Since its launch in 1999, the program has raised more than $12 million and 3.9 million pounds of food for communities along CP's routes in Canada and the northern US.
A statement from CP Rail said that as in years past, two trains will operate coast-to-coast under the Holiday Train banner, with approximately 150 shows held in November and December. The train that operates primarily through the US will launch in the Montreal area on Nov. 25, while the all-Canada train's first shows will start a day later, also in Montreal. The US train will complete its final shows in Saskatchewan on Dec. 15, and the final show of the tour will take place Dec. 17 at Port Coquitlam, BC.
Every pound of food and dollar raised at each stop stays with the local food bank to help feed those in need in that community.
The Holiday Train sports an all-Canadian musical line up with multiple Canadian Country Music Award and Juno Award winners. The Canadian train will feature musical guests Dallas Smith and Odds. On board the US train, Kelly Prescott will partner with Doc Walker between Montreal and Windsor, Ontario., with Colin James covering the Midwest and Great Plains shows. Jonathan Roy will also perform at all Quebec locations.
First-time stops this year include Olds, Alberta; and Canoe, BC. A full schedule of Holiday Train stops is available at www.cpr.ca/holiday-train. It will arrive in Revelstoke at 6 pm on December 13, The performance by Dallas Smith and Odds and traditional cheque presentation will be held between 6:30 and 7 pm.
Again this year, the Holiday Train program is encouraging people attending events to bring heart-healthy donations. Heart-health education and awareness is a tenet of CP's community investment program, CP Has Heart, which focuses on improving the heart health of men, women and children in communities across North America.
"We are very excited about this year's CP Holiday Train and are encouraging all event attendees to bring healthy, nutritious food items to the shows," Pam Jolliffe, the interim executive director of Food Banks Canada, said in the statement. "For the last two decades, CP has played an integral role in raising essential food for the holidays and in raising awareness of hunger-related issues."
Each year, fans of the Holiday Train follow its journey over social media, posting spectacular images of the trains in various cities and landscapes. Those who capture the spirit of the train, holiday entertainment and the spirit of giving are encouraged to enter the Capture the Spirit photo contest for the chance to win an exclusive ride on next year's train. This year, those that enter the contest will help track the train in a customized #CPHolidayTrain map. Details about the contest will be available closer to the start of the program on the Holiday Train Facebook page.