By David F. Rooney
Hundreds of parents and their children flocked to Revelstoke's schools for the annual Mug & Muffin event that marks the first day of school, held this year on Tuesday, September 6.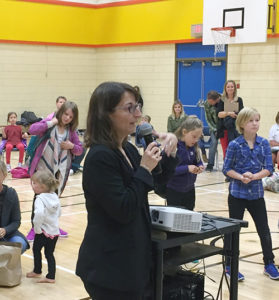 "After the first day of school, it appears that we are welcoming a number of new families to Revelstoke," said Superintendent Mike Hooker. "I can get you some detail in the next few days, but I can let you know that all four schools are up from the end of last year in terms of totals, so our overall enrollment will be over then 930 we were expecting."
He also noted that each of the city's four schools also welcomed new staff.
"We have a new Speech and Language Pathologist, Monica Penner, new principals at each of the elementary schools, (Todd Hicks at BVE, Andy Pfieffer at CPE and Rita Tedesco at AHE)," Hooker said.  "At RSS, band teacher Tessa Davis came back from Scotland after a two-year leave, a new tech/shop teacher, Jason Ostoforov joined the staff and Jodi Wallach moved from Counsellor to Vice-Principal.
"As always, we had a great turn out of parents at the elementary Mug and Muffin, a first-day-of-school tradition. RSS staff were busy rearranging schedules for Grade 8 students as the enrollment increased beyond what was expected in the last few days leading up to school."
Teachers and students aren't the only ones geared up for the first day of school. School trustees are doubtless busy reading their agenda packages in preparation for their first board meeting scheduled for Wednesday, September 28, at 5 pm at the SD 19 bu8lding next to RSS.