This weekend is shaping up to be an excellent one, despite the Weather Network's forecast of cool temperatures and intermittent rain, but there will be plenty of things to do — particularly on Sunday.
However, before we get to Sunday, here's a note about Saturday. Alliance Church Pastor Jayme Freeman is offering free admission to the first one hundred people who come out to the Roxy Theatre on September 17 to attend Ben-Hur and after that it is only $6 per person.
This is part of the church's 75th anniversary celebration. Please click here to learn more.
Saturday is one of the last outdoor Farmers' Markets of the year. Be sure to get down there early enough to enjoys the spectacle and pick up what you need. Saturday is also your chance to see The Comic Strippers. This is a screamingly funny improve and male stripper parody. It starts at the Performing Arts Centre at 7:30 pm. Please click here to learn more and to purchase tickets online.
At 9 am on Sunday, September 18, put on your running shoes and make your way to the Railway Museum for the start of the annual Terry Fox Run.
There are two options for runners:
The undulating trail run in Mount Revelstoke National Park; and
The flat city run along the Revelstoke pathway that parallels the Greenbelt.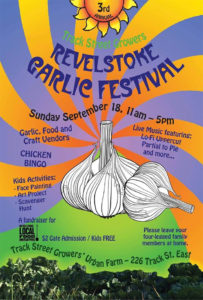 Once you have that covered, drop over to 226 Track Street East for the Third Annual Revelstoke Garlic Festival anytime between 11 am and 5 pm.
Track Street Growers' Sarah Harper and Stuart Smith will have live music, all kinds of things other garlic for sale, interest9jg vendors, cupcakes from Pip & Dex Cupcakery, kids' activities, and even a chicken bingo!
Admission is $2; kids are FREE. But take note that this is a HUMANS-ONLY event. Please leave your dogs at home.
***
The folks at the Legion have found a new service to offer the community.
"We have been incredibly busy at the branch, with the Jack Byer's Memorial Golf Tournament and now that summer is winding down the Meat Draws are bringing more people in again, but something I would like to get out there, is that we now have a large BBQ (stays at the Legion) and it is open for business," Legion President Ed Koski told The Current.
He said the BBQ is available for groups or family functions that want to have a BBQ.
"They can come and set it up with us to BBQ at the Legion and then use the newly renovated downstairs banquet room, or the lounge for smaller things like birthday parties," he said.
Koski said the BBQ has already had its first work-out.
"On Saturday evening, September 10, there were 90 people that either had steak or chicken and it went fairly fast, with the chef from Emo's (one of our executives) doing the cooking, so a large group can be handled with them cooking or us, with enough notice," he said.
For more information, please contact the Royal Canadian Legion Branch 46 at 250-837-6020 for more information.
***
A workshop that seeks to help parents and teachers understand and cope with teenagers "deal with the uncharted territory of the Internet," is coming to town.
How much do parents really know when it comes to sex, drugs, violence, eating disorders, bullying, suicide, drinking and driving?
"We are holding our breath, hands over our eyes, peeking out between our fingers," says statement from the hosts of the Safeteen program. "We can see our teenagers teetering on the brink of a precipice, arms outstretched. Our media and TV-culture-fed youth are perched in precarious denial armed with the 'Immortality Syndrome' (That could never happen to me!)."
Tricia Sharpe, senior Safeteen Agent for Change and Bill Pozzobon, co-creator of the Boys Program promise you an inspiring and educational evening on Sunday, September 26, at Revelstoke Secondary School from 6 pm – 7 pm.
***
Wondering about all the 'stuff' that clutters your life? If that's the case, then you might want to head to the Performing Arts Centre on Friday, September 23, to catch a film that may provide the answer you crave.
Minimalism: A Documentary About The Important Things, examines the many flavors of minimalism by taking the audience inside the lives of minimalists from all walks of life — families, entrepreneurs, architects, artists, journalists, scientists, and even a former Wall Street broker — all of whom are striving to live a meaningful life with less.
Minimalism is currently the No. 1 indie documentary of 2016. Entry to this film event, which runs from 7 pm until 9 pm, is free with donation. All donations received will go directly to the Les Wetselaar Memorial Bench.
Les was the man who drowned in the Columbia River earlier this year.
Please click here to find out more information.
***
Conversations Cafe is hosting a talk on Electoral Reform on Thursday, September 22, from 7 pm until 8:30 pm.
Two activists, Ann Remnant and Sjeng Derkx, will be touring Kootenay-Columbia to hear from residents on electoral reform. This session in Revelstoke is the first of six meetings they will be attending. The feedback they receive will be sent to the Special Committee on Electoral Reform, which wants to hear from Canadians about a new voting system for Canada in 2019.
During the election campaign, Prime Minister Justin Trudeau promised that 2015 would be the last election held under "first past the post."
"Our meetings are non-partisan, free and everyone is welcome, we want people to have their say," Remnant, who is with the Fair Vote Canada movement, said in a statement. "There will be a short presentation followed by conversation about what electoral reform may mean for Canada, for Kootenay-Columbia and for individual voters."
Please click here to find out more.
***
Studio Connexion Gallery in Nakusp is showing its 6th — and oh, so tasty — art show of the season.
The curator is very delighted to bring back Patrizia Menton with her series Mediterranean, which is on display August 30 to September 17.
Studio Connexion Gallery features local and regional fine artists and is located at 203 Fifth Avenue NW in the heart of Nakusp. Its business hours are 11 am to 4 pm, Tuesday to Saturday. It is also possible to arrange private viewings by contacting the curator at 250-265-3586 or 250-265-8888.
***