By Laura Stovel
They are at crossroads, the two of them. She has recently been diagnosed with Parkinson's disease; her left foot drags, her steps are less certain. He has been diagnosed with Lewy body dementia. He is walking the wrong direction towards a place he thinks is home and the woman with him – his wife – looks to him like an imposter.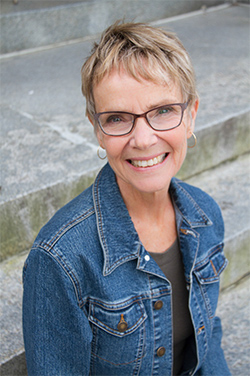 So begins Leslie Davidson's short story about a telling moment in her journey with her husband, Lincoln. Her story has been short listed for the Creative Non-fiction category of the CBC national writing competition, Canada Writes. Five writers have been shortlisted and the winner will be announced on Wednesday, September 21st.
The stories are being judged by such esteemed writers as Brian Brett, Diane Schoemperlen and Drew Hayden Taylor and past CBC literary award winners have included George Bowering, Carol Shields and Michael Ondaatje.
Davidson has always loved writing for an audience. Unlike a journal, which "just solidified my angst or pain, having to write with a reader focus or in an authorly way moves me forward," she said.
Her most powerful writing has come out of the painful experiences of caring for her husband as he faded away from her because of dementia, and of battling with her own Parkinson's disease. The symptoms of both their diseases came on around the same time – in 2010 and early 2011 – just three years after Davidson retired.
Davidson's decision to retire in 2007 came at just the right time. Lincoln, who is eight years older than her, had retired three years before that and was spending his time travelling. "I was wistfully looking at Lincoln trot off on his adventures and was really looking forward to the day when I joined him," she said.
"We had three years of the most amazing travel. It was full circle. When we first met in Williams Lake we sold everything we had and went to Europe. We bought a brand new Volkswagen camper. We picked it up in Germany, got it outfitted and travelled for the next 15 months through Europe and North Africa."
"Then we came home and did the grownup thing and taught school and raised a family. And then we retired."
When Davidson decided to retire, they bought the latest Volkswagen camper – "a '91" – and travelled around BC, the United States and Mexico. "We just camped and travelled every opportunity we had and in between times I was writing a lot."
In 2010 Lincoln began to struggle. "We bought a new car in 2010 and he couldn't learn it, which was a huge indicator because that is his strength and not mine," Davidson said.
"Right after that, in the new year of 2011, we went to Costa Rica and he couldn't zip line, he couldn't figure it out, which is another complete anomaly for Lincoln who was a mountain climber, mountain biker and hiker and a very good white-water kayaker and canoeist."
"I was showing the first symptoms of Parkinson's just before that trip to Costa Rica," she said. "So when we came back I very quickly went to the doctor and was seeing a specialist and got a diagnosis. And Lincoln and I were having a conversation about him as well but he wouldn't go to a specialist and I didn't push because I understood. I felt that he was making an ok decision for himself saying 'if I have dementia, I have it.'"
The next few years were ones of worry and loss, strengthened by a strong relationship that had had its bumps but emerged stronger for those experiences, Davidson said. Lincoln developed symptoms of forgetfulness and anxiety along with Parkinson's symptoms, which are typical of Lewy body dementia. Davidson explained that Lewy body dementia is the second or third most common form of dementia after Alzheimer's disease but it is underdiagnosed and not as well understood.
Perhaps the most disturbing symptom of Lewy body dementia, however, is Capgras syndrome: the feeling that someone you love is an imposter. Lincoln sometimes felt that Davidson looked like his wife but, as Davidson explained it, "there's something off about you so I know you're an imposter so that means something sinister is going on." The experience was terribly frightening for both of them and became the subject of Leslie's short-listed short story.
In 2015, the Davidsons moved to Revelstoke from Grand Forks to be closer to their daughters and grandchildren. They had bought a condominium here in late 2013 when Lincoln was well enough to discuss the move. They remained in Grand Forks in 2014 but Lincoln's health deteriorated until he had to be put into residential care. In 2015, space became available for him at the Cottages, the residential care home connected to the Revelstoke hospital and he and Leslie made the move.
As heartbreaking as putting Lincoln in residential care was, the change allowed Leslie to begin healing – and she did this by writing. "I was just consumed with caretaking and managing Parkinson's and then Lincoln was in care and that's when I started to write. I began as a way of settling myself down, of articulating all this trauma – and sorrow. And remembering all the good things in my life. A way of counting blessings," she said.
"Writing helped me keep that gratitude piece large. I started to share it very slowly. There were a couple of things published in the BC Parkinson's magazine, in the BC Alzheimer's newsletter. And I started to write for an e-zine, On the Move, based in England that was written and published entirely by people with Parkinson's."
Davidson is also experiencing another big publishing success. Her children's book, In the Red Canoe, has just been published by Orca and is now available in bookstores. The book conveys the magic of a grandfather and granddaughter paddling down a river in a red canoe.
"I wrote it on a camping trip with Lincoln after I retired," she said. "We have a red canoe. Lincoln built it, before he met me. When I met him he had a Volkswagen van with a red canoe on the top. It's an iconic thing in our lives. So I wrote this. I find that sitting in a car with a guy who doesn't like to talk when he's driving, I did a lot of head writing. I started it then, this little poem of images and they kept being more and more and more until it was book length. Sent it off to Orca first because they seemed the best fit to me."
Davidson is very happy with the book, which was beautifully illustrated by Laura Bifano. "I think Laura has done such a beautiful job with pictures that are romantic enough to appeal to adults who buy the books but have enough whimsy in them to appeal to children," she said.
"The whole thing from imagining what it would be like for the grandchildren in the canoe with Lincoln, having the experiences that our girls had with their dad. So of all the things I've submitted, that is the closest from my heart which is probably why it wound up being the one that found acceptance. And the grandfather even looks a little bit like Lincoln."
For Davidson, writing about Lincoln is an important way of giving a voice to a group of people who become invisible in our society.
"There are many, many groups oppressed in our culture but the people we warehouse are prisoners and our frail elderly, particularly the ones with dementia. And it's a very hard, hard journey for families and we tend to do it in isolation when there is this enormous community of people all going through the same thing and it just gets bigger and bigger and bigger and it will get bigger as the healthy baby boomers age."
"We don't know how to manage the brain diseases, despite all the work being done. They are still just progressive, debilitating, isolating things to live with, as you know. So sharing Lincoln's story and our family's journey with his illness is a way of saying "These are people."
To read more of Leslie Davidson's writing, please go to her website at: http://www.leslieadavidson.com/.