CBC Books, CBC's online home for literary content, together with its partners the Canada Council for the Arts, Air Canada enRoute magazine and Banff Centre for Arts and Creativity, today announced the winner of the 2016 CBC Creative Nonfiction Prize.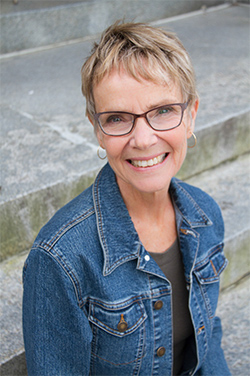 Leslie A. Davidson of Revelstoke – originally from Kingston, Ont., and Grand Forks – wins the grand prize for Adaptation. The story was selected from more than 1,100 works received from across the country. You can read Adaptation at CBCBooks.ca.
As grand-prize winner, Davidson will receive $6,000 from the Canada Council for the Arts and her story will be published in the October edition of Air Canada enRoute magazine. She will also receive a 10-day writing residency at Banff Centre for Arts and Creativity.
The jury was composed of writers Brian Brett, Diane Schoemperlen and Drew Hayden Taylor, who said:
"Adaptation is the story of a long-married couple going for a walk along the river near their town. Beyond the strong and simple writing lies all the complexity of love and pain and how we must get used to the hard things we are not used to. Told with tenderness and gentle humour, it is the story of searching for signposts to help us navigate the new terrain of our lives as we age."
When Davidson retired from teaching, she started submitting her stories, collecting "rejections and advice, discipline and humility for my wannabe writer-self." In 2011, she was diagnosed with Parkinson's disease. Soon after, her husband was diagnosed with young-onset dementia. "Telling our story began as therapy but became the articulation of a journey, full of sorrow but coloured by astonishing love, humour and compassion."
CBC Books also announced Cynthia Massé as the winner of the French grand prize this morning: for Le réfrigérateur. For more information, please go to ICI.Radio-canada.ca/icionlit under the "Récit" tab.
The four runners-up for the CBC Creative Nonfiction Prize are Christine Higdon of Mimico, Ontario for Because We're Not at the Ocean, Shannon Linden of Kelowna for Eighteen, Jack Neary, of Toronto, for What Was in Me, and Judith Timson, also of Toronto, for Through the Front Page. Each runner-up will receive $1,000 from the Canada Council for the Arts.
For more information on the awards, please visit CBCbooks.ca.
About CBC Books, 
CBCbooks.ca features all of CBC's rich literary content and major events and programs such as Canada Reads, Canada Writes, The Next Chapter, and Writers & Company. This one-stop destination for book lovers and writers includes exclusive interviews with authors, the latest literary news stories, book recommendations and writing competitions.
Please click here to read an interview with Leslie Davidson.