By Jason Portras
Roman Danylo and his comedy troupe The Comic Strippers brought down the house on Saturday, September 17, in a storm of raucous laughter in what was a very well-attended show that opened the 2016 / 2017 season for the Performing Arts Centre.
This version of Thunder From The Tundra, as they're known in Australia, consisted of a surprisingly buff Roman Danylo as lead-stripper 'Chip Rock', along with the following trio of 'Dad-bods': Filipino-Canadian comedian Chris Casillan as 'Chipotle' (whose sign language was terribly fantastically funny), the multi-talented Ken Lawson as 'Chipstick' (a very pale stripper with 47 years in the trade and an odd Gumby-like presence), and Convos with my 2-Year Old YouTube star David Milchard bringing up the rear (so to speak) as 3-day stripping newbie 'Chipmunk'.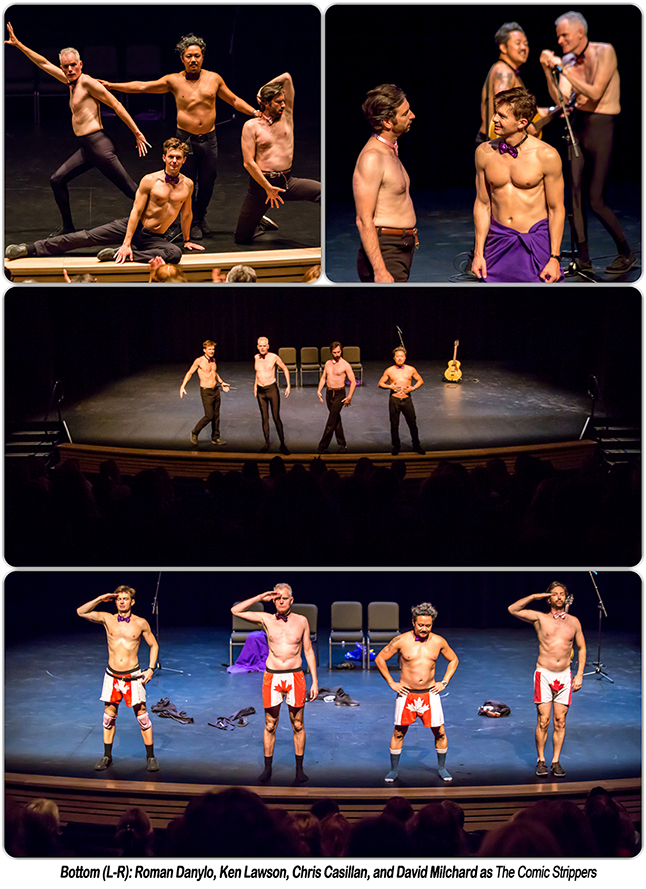 The idea for Comic Strippers came to Roman while bathing, of all things, as his wife told him about watching a male-stripper show with her friends. A parody of the male strip-show was born, and it has been comedy gold for Roman and his compatriots ever since.
At the show's start, it seemed I would be the only "token male", as one fellow patron of the arts called me, as she patted my shoulder and said "Good for you, I couldn't convince my husband to come." I started to wonder if this was such a good idea, if Mr. Rooney was feeding me to a group of ravenous she-wolves. After all, if I was the only male, I was sure to stand out! And be picked out! Eeeek!
My wife laughed as we saw more and more guys coming in, leaning over to me and saying, "More dudes, I think you're good." Phewww. I'm pretty sure just about every guy that came was thinking the same thing, as I saw them gazing over the crowd for other "dudes" and when they realized more of us had braved this "male-stripper" comedy show, the relief across their brows was as evident as mine.
A couple of 'dudes' were still unlucky enough to be chosen to be part of the act, but alas for them, because it only made it better for the rest of us. I should say, I'm also very (very) certain that both of them did a far better job than I would've ever done. Blair kicked it as the 'stripper in disguise', matching the moves of his mentors step-for-step, perhaps in a little less-coordinated but hilarious way. Birthday Boy James tried to position Roman and David Milchard in a sketch about ping-pong, which turned out to be not as easy as it might sound.
The night was full of mirth and hilarity. Even a slight power surge halfway through that caused some of the stage lights to go out for an extended period of time was embraced into the act by these improv geniuses. If you missed your chance to see them, don't miss out the next time you get the chance! You'll definitely have a great time LYAO! 😉