By David F. Rooney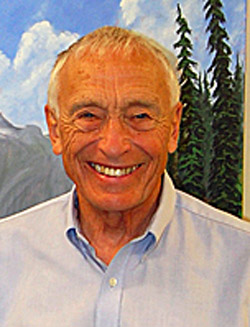 A nasty tumble on Victoria Road sent Geoff Battersby to Queen Victoria Hospital with five broken ribs on August 21.
The retired physician and former mayor was cycling along the road when he hit a rock and fell off, his wife Gwynne said Tuesday, September 6.
"Fortunately, two lovely ladies from Calgary saw it happen and pulled over," she said. "He said he'd be fine but they took him to the hospital. They were quite insistent."
Unfortunately, Battersby did not get the names of his two  guardian angels, who were on their way to Tofino.
Battersby was having a nap when I called and is now out of the hospital and is convalescing at home. No doubt it may be a while before he's back on his bike.
Rest up, Geoff!
Battersby was named to the Order of Canada in June for his many contributions to Revelstoke. He and 112 other Canadian appointments  will be invited to accept their insignia at a ceremony to be held at Rideau Hall in Ottawa at a later date.
The Order of Canada, one of our country's highest civilian honours, was established in 1967, during Canada's centennial year, to recognize outstanding achievement, dedication to the community and service to the nation. Over the last 49 years, more than 6,500 people from all sectors of society have been invested into the Order.