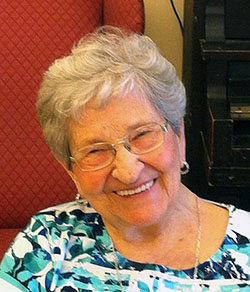 Nora Amelia (Tessaro) Baldwin passed away peacefully at Mt. Cartier Court on August 14, 2016. Mass of Christian Burial will be held at St. Francis of Assisi Catholic Church, Revelstoke on Saturday morning, August 20th, 2016, at 10:30 am with Father Aaron de Dios celebrant. Interment of the cremated remains will follow in the family plot at Mountain View Cemetery in Revelstoke. In lieu of flowers, memorial contributions may be made to the Canadian Cancer Society, B.C. Heart & Stroke Foundation or the Mt. Cartier Court Activity Fund, in care of Nora.
Nora was born at Nervesa della Battaglia, Treviso, Italy on March 16, 1924, to Quinto and Angela Tessaro and came to Canada in November 1924. She resided in the Fraser Valley and Abbotsford area until moving to Revelstoke in April of 1963. Nora worked at the King Edward Hotel along with her husband Harry Baldwin for 20 years. She retired in 1983 but remained involved in the community. She was a Past President of the Ladies Auxiliary to the Royal Canadian Legion, a member of the Hospital Auxiliary, where you could find her working at the Thrift Shop. She also enjoyed her involvement with the Senior Citizen's Association and was member of the Seniors Choir. Nora liked to get out and walk when she was able and often you would see her and her friends wandering to town to enjoy a coffee at Conversations. Sundays you would find her at Church and then it was off to breakfast with a group of the ladies. Nora loved her family and missed them when they started to go their own way, so it was very special to her when they came home for a visit.
Nora was predeceased by her parents and five siblings, as well as her first husband Gordon Cooper and her second husband Harry Baldwin. She is survived by her daughter Sharon McCrae (Sandy), two sons Cyril Cooper (Marlaine) and Brian Baldwin (Audra) and five grandchildren, Brodie (Brenna), Ashley (Justin), Brad (Morgan), Liam and Ethan, as well as numerous nieces and nephews.
At this time the family would like to thank the staff of Mt. Cartier Court: You are very special people and treated Mom with respect and empathy during her stay. Also a thank you to Dr. Leslie, Ann Marie Gill and Dr. Hamilton for your care. And thank you to the ladies of the Hospice Society for your visits to Mom. She loved the quilt!
Messages of sympathy may be sent to Nora's family by viewing her obituary at: www.brandonbowersfuneralhome.com.
Cremation arrangements are in the care of Brandon Bowers Funeral Home, Revelstoke.