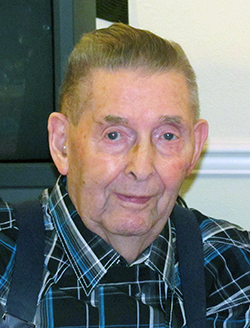 With sadness, the family would like to announce the passing of Harold Grimes. Harold was born in Blackfalls, Alberta, October 3, 1926; the only son of Valeria and Erie Grimes and only brother to his 7 sisters. He married Maxine McMillian in Red Deer, Alberta. Harold and Maxine celebrated their 70th wedding anniversary on July 3rd, 2016, with his 5 daughters and their families, extended family and friends. Harold grew up in AB but he and Maxine moved to Vancouver after starting their family. They settled in Revelstoke in 1963 and although they moved around, Revelstoke had become and remained 'home.'   Harold was the proud owner of Harold's Chevron and worked in the community through the many activities of the, then very active, Kinsmen Club. He also enjoyed curling and golfing and was frequent patron of local Chinese food restaurants.
He is survived by his wife, his daughters, his grandchildren and his youngest sister.
Funeral services will be held at the United Church on Friday, August 19, at 1 pm. A tea will follow. In lieu of flowers, donations can be made to the Canadian Diabetes or Canadian Cancer Society.
Messages of sympathy may be sent to Harold's family by viewing his obituary at: www.brandonbowersfuneralhome.com.
Cremation arrangements are in the care of Brandon Bowers Funeral Home, Revelstoke.