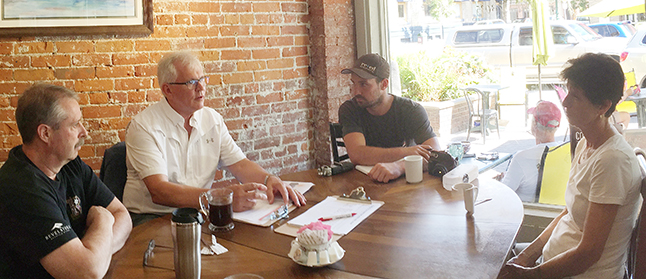 MP Wayne Stetski was in town Thursday afternoon to gather constituents' views regarding potential electoral changes.
Three people — Alan Polster, Perter Worden and Virginia Thompson met the New Democratic Party MP at Conversations to talk about electoral reform. The Liberal government wants to change the electoral system the current first-past-the-post system to some kind of popular representation system. The Conservatives are fine with the way things are now.
A Special Committee on Electoral Reform has been created by Parliament and will soon be touring the country soliciting input from Canadians. There si schedule is not yet set and we do not know if they will appear in Kootenay Columbia riding. Please click here for more information.
If you have particular thoughts about this issue you can e-mail them to Stetski at wayne.stetski@parl.gc.ca or send them to him by Canada Post (there is no postage required to send our MP any mail via Canada Post) at:
Wayne Stetski, MP
Kootenay Columbia
House of Commons
Ottawa.ON
K1A 0A6