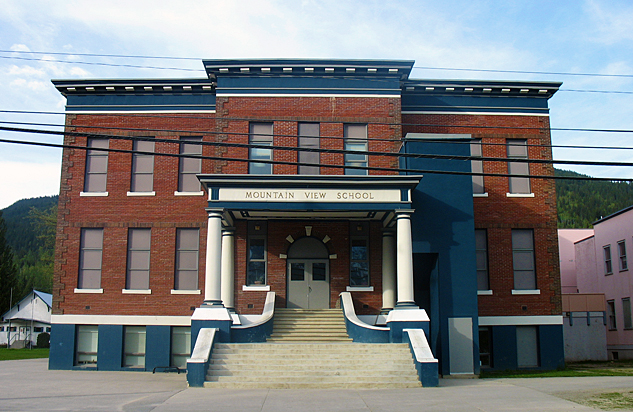 By David F. Rooney
Revelstoke's historic Mountain View School building has been sold and will become home to a high-end distillery and a new medical clinic.
In separate news releases issued at noon on Friday, August 19, School District 19 and Gareth Jones of Salmon Arm announced that an agreement had been reached between them. The school, built in 1914, is initially planned to be home for two companies:
Jones Distilling. There will be a small scale Craft Distillery making ultra-premium Vodka, Gin and Whisky. There are plans to further develop a tasting room, then a bar and finally a restaurant.  Click here to visit its website and here to visit its Facebook page.
Medical Clinic.  There are plans to open a medical clinic which will expand as demand dictates.  Jones said in a statement that he is looking for family doctors to join the clinic.
Both businesses will operate independently with separate access to the building. Jones said he cannot disclose the closing price on the structure.
"Based on the criteria outlined in the Request For Proposals, the Board approved the sale of the school to Gareth Jones," the Board of Trustees said in a separate statement. "Gareth has a real appreciation and respect for the heritage building, and a vision for its use that will ensure public access to the facility. He has experience with heritage conservation, and through his proposal demonstrated a clear understanding of the scope of work involved.
Jones said in a telephone interview that while he had briefly considered Salmon Arm as the site for the distillery, he had preferred Revelstoke. Jones Distilling promises to produce an "ultra-high-quality product," he said. adding that his plan will reinvigorate the building.
Jones said he and his wife are in the process of moving to Revelstoke.