By David F. Rooney
Hoteliers near the site of the roundabout to be built — starting this Monday, August 15 — at Victoria Road and Wright Street — are deeply concerned about the impact construction will have on their businesses.
At least two of them have complained bitterly, and in writing, to the City about the way the project and the short notice they were given about its start.
"We know we can't stop progress, and discussions and planning meetings have happened over time, however, why is this City Council approving situations that immediately affect local residents, businesses and obviously local traffic?" Monashee Lodge owner Dean Leman asked in a letter to City Development Services Manager Dean Strachan.
That's a question Sam Cho, owner of the days Inn and Suites, would also like to have answered.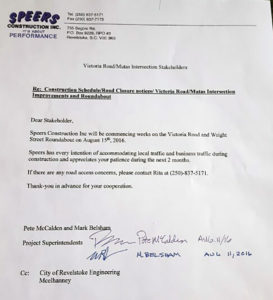 "Yesterday, Friday, August 12, we were visited by a construction company named Speers Construction Inc and given a notice that states Speers will be commencing a construction work at Victoria Road and Wright Street to build a roundabout on August 15," he wrote in a separate letter to Strachan. "We are dismayed and very concerned about this decision that we understand the City of Revelstoke Engineering has made. We have never been asked about the timing of this construction nor given any notice beforehand, while Speers advised it will be commencing from August 15, 2016 which is just two days away from the given notice."
Leman wonders "how do you people sleep at night?"
"October/November is the time to proceed, not prime-time summer," he wrote. "Should business numbers drop, based on the last two years' numbers, are we able to be compensated? Even if the answer is 'Yes,' whose pockets is the money going to come out of? I do not want to stop progress, I want progress to happen naturally with a well-thought-and-planned-out scheme that hurts the least amount of people. Your plan isn't it. Please reconsider immediately what you're doing and thank you in advance…"
William Zhao, owner of the Gateway Inn, is also said to be very concerned about the project's impact on his establishment but could not be reached for comment.
Please click here to read the letter from Dean Leman.
Please click here to read Sam Cho's letter.
There have been several stories and letters published in The Current during the past several months as Mayor Mark McKee and City Couoncil wrestled with the whole Nigtmare on Victoria Road that is its intersection with the Trans-Canada Highway and the subsidiary intersections with the Mutas Loop on the west, which takes you to McDonalds, A&W and Starbucks, and the matching commercial development on the east that directs you into Tim Hortons, the Shell Station and the Motel 8, and Wright Sreet, where the roundabout is being built.
This closely related series of intersections has been a pain in the community's derriere since it was built in about 2003. It was bearable until its inadequacies were magnified after tyhe opening of RMR in 2007 and has only gotten worse. Now, flaggers are required to manage traffic every weekend through the summer. God only knows how much further it would deteriorate without some kind of action plan. At least no one has been killed there… yet.
The following list of links will take your to stories, videos, photos and links to relevant documents. You can access additional material, including letters to the editor, by entering the search term 'roundabout' in the search field on the right-hand side of your screen.
Click here to read: