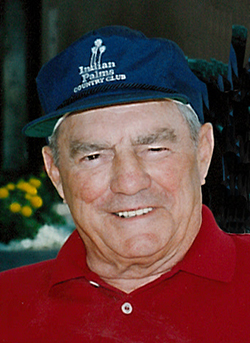 Edwin Bernard (Ed) Deloughery passed away at Queen Victoria Hospital, Revelstoke on Thursday, June 30, 2016, at the age of 85 years. A Celebration of Life will be held at the Revelstoke Golf Course on Saturday, July 23 at 2 pm. In lieu of flowers, memorial contributions may be made to the Revelstoke District Health Foundation, Bag 5000, Revelstoke, B.C. V0E 2S0, in memory of Ed.
Ed was born in Eganville, Ontario on March 28, 1931, and had been a resident of Revelstoke since 1977. Ed was a hard worker and spent many years in the construction industry. His last job was as the Project Manager for the Revelstoke Dam. Ed was a great Project Manager and he always tried to make things comfortable for his staff and their families. He always stuck to his word. In his spare time, he enjoyed hunting, fishing and golfing.
Ed was predeceased by his parents Al and Beatrice, brother Frank and his son John. He is survived by his loving wife Ute of Revelstoke; one daughter Lynn Legacy of Owen Sound, Ontario; one granddaughter Vanessa (Jim) of Owen Sound, Ontario and one great grandson Emmett; brother Robert, uncle Tom McCann, aunt Sister Catherine McCann, all of Eganville, Ontario as well as numerous nieces and nephews.
Messages of sympathy may be sent to Ed's family by viewing his obituary at: www.brandonbowersfuneralhome.com.
Cremation arrangements are in the care of Brandon Bowers Funeral Home, Revelstoke.