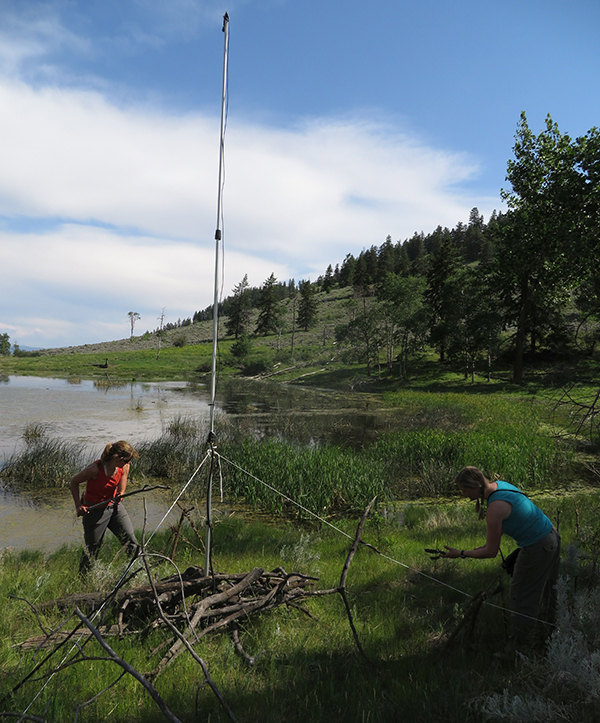 A team of local researchers are monitoring bat populations in BC using bat detectors as part of the North American Bat Monitoring Program (NABat).
This continent-wide program aims to monitor bat species distributions and relative abundance over time. This information is particularly important in BC since White Nose Syndrome, the disease that is decimating bat populations in the eastern part of the continent, was recently confirmed in Washington and is expected to arrive in British Columbia soon.
"By monitoring populations this year, we will have baseline data before White Nose Syndrome reaches our province, if it hasn't already," Dr. Cori Lausen, a bat specialist with Wildlife Conservation Society Canada, said in a statement about the new program. "This annual monitoring will better allow us to understand the impact of this disease as it spreads to our bats in BC."
The program samples 10 km by 10 km grid cells using bat detectors, acoustic devices that record the echolocation calls of bats. Bat detectors record the bat calls on a compact flash or SD card so the images of the calls can be seen using special software and the bat species can be identified. Up to four bat detectors are put into each grid cell and left for a week to record bat calls. In addition, two driving transects are conducted using a bat detector and a microphone attached to the roof of a car.
"It's our form of a bat mobile," says biologist Juliet Craig who is coordinating NABat in BC. "We drive at 30 km an hour down a road in one direction and listen in on the echolocation calls through the bat detector, which brings them down to a frequency we can hear. Then it's like opening a present when we download them to the computer to find out which species were flying by."
Funded by the Columbia Basin Trust and the Habitat Conservation Trust Foundation, the BC bat researchers will be sampling at least 14 grid cells over a five-year period including regions of the Columbia Basin near Castlegar, New Denver, Meadow Creek, Creston, Cranbrook and Revelstoke.
"Our bats are critical for our ecosystem," Lausen said. "They consume enormous numbers of nocturnal flying insects, including moths that are agricultural or forest pests. Monitoring the disease's spread and impact through this NABat monitoring will alert us to where we may experience future ecosystem and economic consequences, and may shed light on potential mitigation."
For more information, go to www.bcbats.ca.