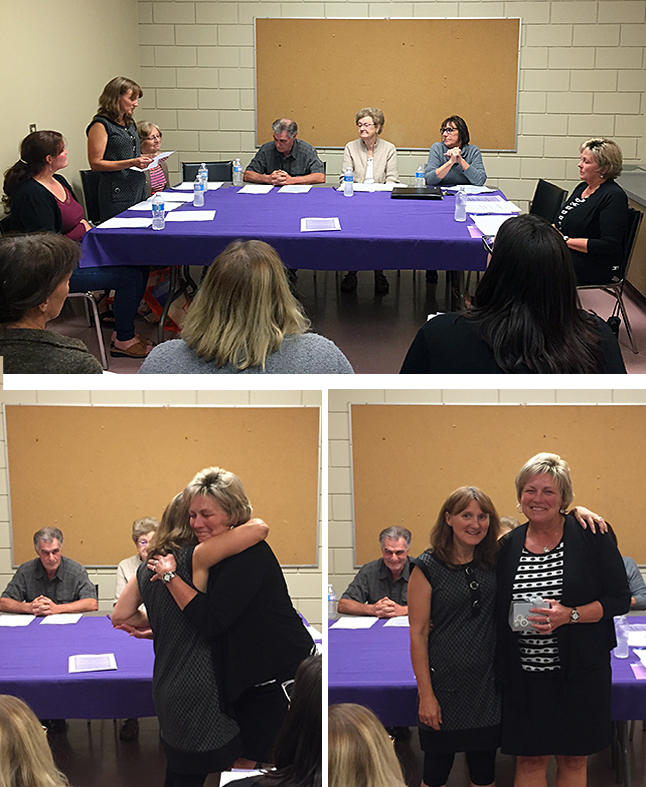 By David F. Rooney
After 14 years ensuring that the Women's Shelter was ticking along smoothly, Nellie Richardson has called it a day as its executive director.
Her departure was announced during the Women's Shelter Society Annual General Meeting on Tuesday, June 21.
Nellie said she had originaly planned to retire in March, but a personal health forced her to postpone that announcement until this week.
"My intentions were to have all of the administrative details completed and in ship-shape for my successor," she told the board of directors and 24 society members, and interested members of the public during the AGM at the Community Centre. "But life does not always work out as planned. I am happy to report that when you surround yourself with good people things just have a way of working out."
That's a good thing, too.
"Our statistics are up from last year," she said. "We had a total of 1,260 bednights. We provided a safe place for 35 women and 42 children. When reviewing the statistics I realized that for the first time ever we housed more children than women."
Running a successful shelter means you provide services beyond a simple, secure place to sleep, eat and live. As described by Moving Forward Program Coordinator Laura Stovel and other staff members, the shelter has participated in in sexual and mental health workshops,  a Food Recovery Program with the Local Food Initiative, North Columbia Environmental Society and the Communications Food Bank as well as using art and art classes through the Visual Arts Society, to help clients build happier and more confident personas. It has also used Arts Council tickets to Performing Arts Centre events to make its Ladies Night Out program a real treat.
On a personal note, I'd like to congratulate Nellie for the shelter's success and personal note that I believe she she is one a small handful of people whose thoughtful and assertive leadership has helped forge Revelstoke's reputation as a humane and compassionate community. I've watched and written about her work on City Council, and the Social Development and Mayor's Advisory Committee on Health for 15 years and she has done much to make this a better place to live.
You will be missed, Nellie.